The doings of the BELLS
---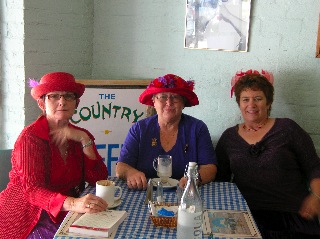 Many years ago I read in a magazine a wonderful poem called "Warning" by a poet named Jenny Joseph I was captured by the feeling of the poem which resonated with my own feelings. Some time later I picked up a little poetry book which happened to have the same poem in it which struck me as being an amazing co-incidence. The poem starts
"When I am an old woman I shall wear purple
With a red hat which doesn't go, and doesn't suit me".
Some years ago, I was visiting my daughter in San Francisco and she took me to afternoon tea at the Palace Hotel in the city to celebrate my birthday. I noticed a group of ladies also having afternoon tea all dressed in purple with red hats. I remarked on this to my daughter and she said "Haven't you heard of the Red Hat Society, an organisation for ladies over fifty who just want to have fun?"
When I got back to Australia, I received a parcel organised by my daughter from Fullerton, California, the headquarters of the Red Hat Society containing a red hat and a book explaining all about the Society. I was really happy to get this surprise gift.
I started a Chapter of the Red Hat society in the CMCA called the Aussie Wandering Red Hatters and attracted about thirty members.
I have had to abdicate as the Queen of The Aussie Wandering Red Hatters because we don't plan to go to CMCA rallies any more and that is where the Chapter meets.
I have caught up with some of the members of the Aussie Wandering Red Hatters who live in Barraba and started a new group. We don't plan to register as an official chapter of the Red Hat Society because that organisation has become very "commercial" and doesn't offer us any significant benefits. We believe that the spirit of Jenny Joseph allows us to be red hatters without having to pay an American organisation for the privilege. We decided to call ourselves the Bells, "Barraba Elegant Lovely Ladies Society"
We meet in town for morning tea whenever we can all get together. Our first meeting was photographed by the local newspaper so we expected to attract other ladies to our group.
Our second meeting had three new ladies and some apologies from ladies who would like to come but had other commitments.
We were well represented at a recent meeting of country ladies organised to provide assistance to ladies suffering from the drought and other regional pressures. The organizers were pleased that we turned up in our regalia and publicly thanked us for our attendance..
The group now meets at 10 am on the third or fourth Wednesday each month at the Conntry Cafe, 92 Queen St Barraba.