Townsville, Qld
Sun 23 May - Sun 6 Jun 1999
---
[Previous] [Next]
---
CMCA 13th Anniversary Rally
We spent 15 days at the Townsville showground with 750 other motorhomes.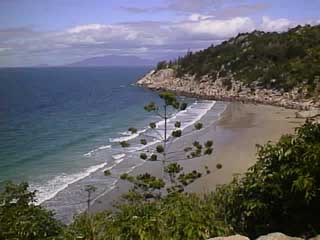 We took organised tours to the Australian Institute of Marine Science, the Billabong Sanctuary and Magnetic Island.
We had much convivial social interaction at happy hour and at the pub.
The "Club" in the showground put on meals while we were there. The first night was the last for us as the price was more than advertised, the food was ordinary and the service left a lot to be desired. Some of our party left without eating and went to find somewhere else. They found good food and good service at the West End pub just outside the showground.
The next night the pub had over a hundred for dinner and their resources were stretched to the limit. Some people got a bit upset by the delays. I was the last to be served but I was 'happy' drinking Guinness and chatting. I promised the landlord that we would return.
The next night we found that the landlord had worked hard to improve his systems and had catered for a large crowd but only ten people turned up.
Finally everything settled down and he had good crowds every night until the end of the rally.
Every Rally has a chapter skits night. We put on a piece in entitled "Swan Lake and the Corps de Belly" with Tom, a slim swan in a fetching cream satin gown, and eight fat chorus dancers, all fellers wearing feathered headdresses, tutus, white tights and work boots. We did a little dancing and when the swan died we tried to revive "her" with bicycle pump and with jumper leads but in the end various of us cried out, "I think shes dead" "Quick call for Doctor Harry" (a reference to a local TV Vet show) "No, bring the camp oven" (a reference to cooking on a campfire) and "I'll have a drumstick". It seemed to go down well with the audience.
We picniced with the Browns and the Marretts at Alligator Creek in the Bowling Green National Park. The highlight for the kids was the visit by Red-necked Wallabies and for me, a Lace Monitor which had a plastic bag stuck in its teeth and which, after some coaxing, came up to me to let me pull it out.
Kelly had her fourth birthday in Townsville at Sheree's house. We spent the morning visiting all the pets at the rally. Sally, the Wade's beautiful, friendly dog was the hit and while Kelly and Ross talked to her, Sarah and Max watched the video of "Swan Lake". I didn't quite know how to take the excessive mirth this caused. I suppose entertainment is entertainment.
Finally, eager to have some quiet time, we were happy to leave Townsville and such a large congregation of motorhomes.
---
[Previous] [Next] [Top of Page]
---
[Index] [HOME]
---
Contact the webmaster
Created by Robin Chalmers25.05.1999 and last revised 08.01.2002
---