High School, Griffith, NSW
S 34°17'35" E 146°02'23
Mon 9 Apr - Mon 16 Apr 2001
---
[Previous]
[Next]
[Top of Page]
[Bottom of Page]
[Index]
[Home]
---
[Earlier Visits]
---
Monday 9th
We went into town to do the laundry and some shopping and went back to the High School to veg out with some other Highway Wanderers while the roads clear of travelling motorhomes. We plan to visit the balloon festival in Canowindra in a couple of week so we are in no hurry.
In the evening I fed the assembled multitude with the Indian equivalent of five loaves and two fishes (beef curry, dhal and KFP). Everyone was very complimentary which was nice. They insist that we will not have to cook on Wednesday evening as they will return the compliment.
I warded off the chill of the evening with a little cognac while not solving the problems of the world with the people who were prepared to brave the night air.
Tuesday 10th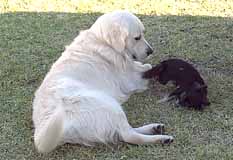 There are seven dogs here and with the exception of the three Malamutes which are kept under strict control, they all play together. Toby, a white Labrador is besotted with Tammy, a Chihuahua.
Wednesday 11th
Shopping in the morning and, in the evening, dinner laid on by several of the ladies.
Thursday 12th
We visited the Hanwood winery to stock up on wine. Spent a small fortune but we'll enjoy the wine over the next few months.
In the afternoon I reorganised the storage in the main bin to make tools more accessible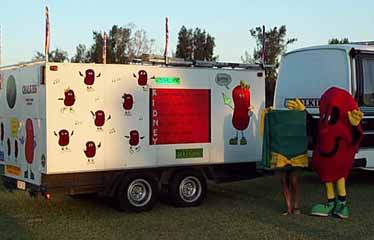 Some of our people are going on an Australian Kidney Foundation Safari up the Kidman Way and the Chalkies have done a marvelous job in dressing themselves and their trailer up for the occasion.
Friday 13th
Veg day.
Saturday t14h
The Griffith festival highlight, the parade through the town took place this afternoon. It was quite entertaining and there were several CMCA entries to add to our interest.
Sunday 15th
The evening was very warm and we had a last night barbecue followed by a round robin joke session which was very entertaining.
Monday 16th
Laundry and shopping day.
In the afternoon, the mountings for the awning failed as I was putting it out. I spent some time replacing the screws with bolts.
We had our last happy hour in Griffith and toasted all sorts of toasts - the Underwriters of Lloyds, the Highway Wanderers, Absent Friends, the Road Runners, . . . . and many more.
---
[Previous]
[Next]
[Top of Page]
[Index]
[Home]
---
Contact the webmaster
Created by Robin Chalmers on 06.04.2001 and last revised 17.04.2001
---