Murringo Creek, NSW
S 34°10'02" E 148°27'33
Wed 18 Apr 2001
---
[Previous]
[Next]
[Bottom of Page]
[Index]
[Home]
---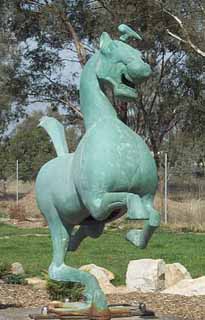 We stopped in Young to revisit the Chinese Garden at Chinamans Dam which we had first seen in March 1998.
It is much more developed now but it is not near finished.
It now has a pair of stone lions and a beautiful bronze horse.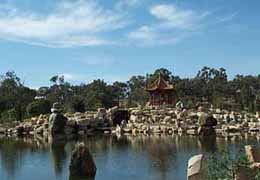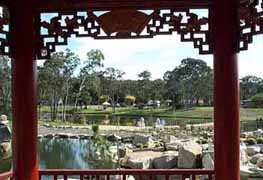 We overnighted in a rest area between Young and Cowra. George and Jan Reed's Swagman was already stopped there so we had company for happy hour.
[Previous]
[Next]
[Top of Page]
[Index]
[Home]
---
Contact the webmaster
Created by Robin Chalmers on 17.04.2001 and last revised 30.09.2004
---