Kalbar, Qld
S 27°56'15" E 152°37'38
Fri 8 - Mon 11 Jun 2001
---
[Previous]
[Next]
[Top of Page]
[Bottom of Page]
[Index]
[Home]
---
Highway Wanderers June Holiday Weekend Gathering
On Thursday and Friday, the Highway Wanderers met at the Showground in Kalbar which is just off the Cunningham Highway about half way between Brisbane and Warwick for a weekend gathering.
Kalbar Showground is a nice place for us to meet as there is power, water, plenty of space and a shed which can be used if it is raining and it's but a short walk to the shops.
Some had come in early and by Friday afternoon there were ten motor homes on the site.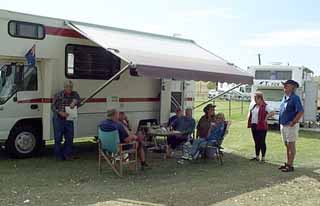 Happy hour was spent catching up with of old friends and getting to know new ones. The weather was kind and we didn't repair to our motorhomes till quite late.
The big rigs coming from Sherwood Forest didn't arrive till after dark so they had some fun finding suitable places to park.
By Saturday morning there were twenty vehicles at the gathering and the place was abuzz.
After morning tea, we had a presentation by a guy from a local emu farming business who bored us to death with too much information about emus before launching into a sales spiel for their emu oil products. He said they were scientifically proven to be good for you but he admitted that they couldn't make any claims for them because they hadn't been through any therapeutic tests! He nevertheless sold a considerable quantity of stuff.
The barbecue dinner of steak, sausages, coleslaw and salad followed by fruit salad and custard went down particularly well. Some had brought out the full dinner setting complete with flowers on the table to mark the occasion.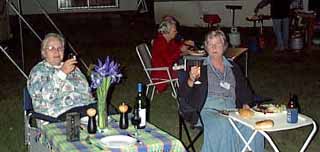 The mandatory fund raising raffle raised a considerable sum and provided many people with prizes ranging from a bottle of Chardonnay to . . . .
After dinner we were entertained by Pip 'n' Mell Powell whose country and western style kept feet tapping and, after the imbibing of some alcohol, a fair amount of dancing.
The theme for the fancy dress was Australiana and quite a number had dressed up.
Ross Blackmore, the event co-ordinator, was a very credible tramp. The Chalkies were arrayed in yellow balloons as wattle trees. Bev Allcock from the Suncoasters wore an astounding red wig and a hat with corks on strings. Hazel Beneke came as a typical Highway Wanderer.
Some cheapskate, who shall be nameless, dressed in his usual Akubra, khaki shirt and shorts, and work boots, "borrowed" the Chapter Flag and draped it around himself. He got an undeserved mention from the judge for doing "something" with very limited resources.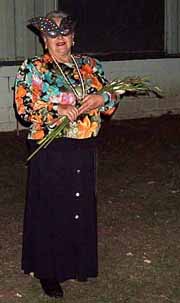 Jean Chalmers had gone to a great deal of trouble to dress up as dame Edna complete with extraordinary glasses and lots gladdies which she distributed to all the ladies and received many compliments for her efforts
The chapter had laid on a cooked breakfast on Sunday morning and we had an auction of unwanted equipment to raise funds for the chapter. Many lots were knocked down to the first and only bid but some items attracted so much interest that one mug even bid against himself in the heat of the action.
In the afternoon a fair breeze sprang up so Robin Chalmers got all excited and tried to repeat his successful performance at Marti's Balloon Fiesta by flying the amazing parachuting bear. Sadly the breeze died before the event was achieved so the disappointed spectators returned to the shade of the trees and the comfort of their drinks.
In the evening we had a Trivia Quiz devised by Hazel Beneke. She had taken note of the complaints about hard questions in the quiz she ran at the Christmas gathering and had devised a two part contest with separate prizes for the easy questions and the hard questions. She still managed to stump us all.
On Monday afternoon we had a visit from some Logan and Moreton Ramblers who happened to be passing, saw our motorhomes and came in for a chat.
Most of the people left during the day so happy hour was just six of us.
I'm sure everyone had a really good weekend and we met some great new people and enrolled some new members into the Chapter.
---
[Previous]
[Next]
[Top of Page]
[Index]
[Home]
---
Contact the webmaster
Created by Robin Chalmers on 08.06.2001 and last revised 14.06.2001
---