Eidsvold, Qld
S 25°22'20" E 151°07'34
Fri 17 May 2002
---
[Previous]
[Next]
[Bottom of Page]
[Index]
[Home]
---
We left after an early breakfast and reached Nanango at morning tea time. We called in at the Wood's caravan park on the off chance that the Woods, the Maitlands and Kevin and Anita had not left. They had not.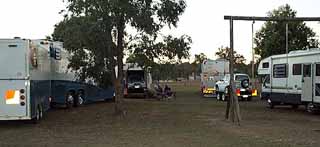 We drove in some kind of convoy and stopped at Ban Ban Springs for lunch and to fill up with diesel. We drove on planning to stop overnight at Eidsvold. We stopped briefly at Gayndah to dump the black water.
Robin, the convoy commander, selected the park next to the showground in Eidsvold for our stay. We had an extended happy hour but eventually the chill of the evening drove us indoors.
---
[Previous]
[Next]
[Top of Page]
[Index]
[Home]
---
Contact the webmaster
Created by Robin Chalmers on - 17.05.2002 and last revised 03.06.2002
---