Barn Hill Station, WA
S 18°21'57" E 122°02'24
Fri 9 - Thu 15 Aug 2002
---
[Previous]
[Next]
[Bottom of Page]
[Index]
[Home]
---
Friday 9th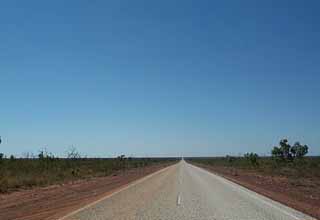 We packed up the Motley, filled up with fresh water, dumped the black water, drove into town and filled up with diesel for the truck, petrol for the genny and for the car and headed south.
The road south of Roebuck Roadhouse cuts through enormous open paddocks and through low coastal scrubby woodland. It tends to go in long straight stretches and there is enough variation in height to present one with the view of the endless highway which we sometimes see.
When we stopped for morning tea, I noticed that the telephone was working so I rang to check that the people we were planning to meet were still at Barn Hill Station. They said they didn't plan to move on until next week so we said we'd see them soon. Just as we were turning onto the dirt road leading to the coast we got a call on the CB saying that they'd meet us at the gate and show us were to go when we reached the place. The road was pretty corrugated and some of it was very sandy so we had a tense time for a while. A little motorhome came up behind us so we pulled over to let them past at one of the rare wide bits of road. When we reach the station we were met by a welcoming party of four friends we hadn't seen for many weeks which was very nice. They took us through the scrub to where they were all camped up and we found a site and settled in.
This place is on a station but they run a kind of primitive caravan park which they call a station stay to avoid all sorts of council regulations. It is on the top of the hills just back from a beach to the south of Broome on Roebuck Bay. There is a great view out over the sea and the sea breeze keeps it comfortably cool all day. With the good view and the good company, we decided to stay a while.
They have been catching fish every day and dinner was fish cakes and veges which went down pretty well. We had a bottle of chardonnay for afters, chatted until the chill of the evening drove us indoors, and watched tele until bed time. Although we had driven 140 km (90 miles) from Broome, we had done a great big loop and were less than 50 km from Broome as the crow flies and both the CDMA telephone and the TV work well here.
Saturday 10th
The first real rest day we have had for a while. I did have to fetch water in the afternoon but apart from that it was all sit around and do nothing.
At happy hour, Allan Ross produced a little hermit crab which Willa had found on the beach. We all assume it was dead until it decided to crawl about on the table. Any fright would cause it to retreat into its borrowed shell but after a while it would come out again to investigate its surroundings again.
In the middle of the night, I found that the house batteries were flat! After a little thought I realised that I had left the fridge on electric power after I had used the genny to top up the batteries! Silly me. One day I must get around to devising an alarm to remind me not to do this. All will be well tomorrow when the sun comes up but I will need to run the genny again to get back to a reasonable state of charge.
Sunday 11th
Laundry day. With no laundry here, I did it the old fashioned way with a bucket, well three buckets actually, and a posser. With the humidity below 40% it was all dry in an hour.
Jean had an adventure down on the beach, getting lost, climbing over big rocks and running from rock to rock between the waves. She came back with a face as red as a beetroot. I urged her not to walk in the heat of the day but what would I know.
Monday 12th
We had a lazy day, sitting around reading and such. The weather was windy but the sky here goes on forever clearest blue in the day and velvet black with a million stars shining brightly at night. In the cool of the late afternoon, we went down to the beach together and Jean swam a convenient rock pool.
In the evening, we all had barbecued fish caught fresh by Kevin when he went out in Murray's boat. The Riversands Merlot went down well with the fish.
I have been running a story that Venus which is presently the Evening Star is a new supernova. Since Venus is pretty well stationary at the moment, it's a good story and some seem to believe it but as supernovae are not high on their lists of important things, they don't get at all excited.
Tuesday 13th
We spent the day sitting about and the evening happy houring with lots of people.
Wednesday 14th
The others all left this morning to go to Eighty Mile Beach. We moved in to Ray's spot to take advantage of the view. We see north up the beach out of one side and south down the beach the other side and whenever one looks up there is the Indian Ocean in all its pristine glory. It's all very beautiful. It will be hard to leave here when it's time to go.
I did a few chores and sat about a lot.
Thursday 15th
I got up at sparrowfart to fill the fresh water tank. While I was about it I did some laundry and by breakfast time I was cactus.
We walked on the beach in the afternoon and watched the sun go down from the comfort of our chairs outside the Motley.
---
[Previous]
[Next]
[Top of Page]
[Index]
[Home]
---
Contact the webmaster
Created by Robin Chalmers on - 09.08.2002 and last revised 15.08.2002
---