DeGrey River, WA
S 20°18'28" E 119°15'06
Mon 19 - Tue 20 Aug 2002
---
[Previous]
[Next]
[Bottom of Page]
[Index]
[Home]
---
Monday19th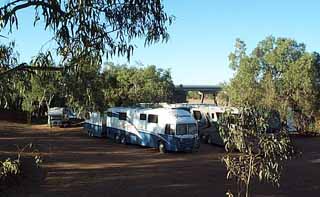 We set of just after ten because the ranger at the caravan park has a reputation for getting tough with late leavers.
We had planned to get to Port Hedland tonight but we stopped at the DeGrey River Rest Area. We went into the area on the east side of the highway and found a whole lot of caravans without there being anywhere for us to park. We did a 180 degree turn around in sight of lots of caravaners who congratulated us on our skill. We went back to the highway and entered the other part of the rest area on the west side of the highway.
We found Ruff Diamond, Boomerang, Figment and the Chalkies all camped here so we settled in for happy hour and a night of free camping.
This is a beautiful place with the camp sites right on the river bank and the road bridge framing the view of a very pretty river. There are lots of birds including white-breasted Sea-Eagle, Yellow-billed Spoonbill, Pelican, and Black Swan. Sunset was spectacular and the gibbous moon cast a pretty silver light on the water as the veil of night fell over the river.
The Supreme Commander of the Chapter and I discussed the agenda for the up coming AGM.
Tuesday 20th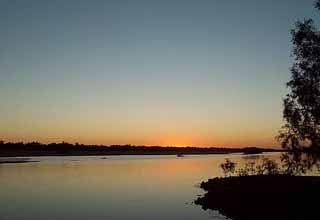 Jean expressed a desire to stay here longer so we sat about a lot, watched the birds, the fish, the sky, the river, talked to the other people here, and generally had a lazy time.

During the day, several acquaintances called in to check the place out and we chatted.

This is a most delightful place to stop and even better when there are not too many people here. The river is calm and tranquil, the sky is clear and the most beautiful blue, the birds are many and varied and one can spend hours just sitting in the shade watching the never ending, ever changing procession.
---
[Previous]
[Next]
[Top of Page]
[Index]
[Home]
---
Contact the webmaster
Created by Robin Chalmers on - 19.08.2002 and last revised 21.08.2002
---