Bourke, NSW
S 30°02'45" E 145°57'24
Sat 4 Oct 2003
---
[Previous]
[Next]
[Bottom of Page]
[Index]
[Home]
---
We took only an hour to reach Bourke. As there are no rest areas between here and Cobar over 200 km (120 miles) to the south, we decided to stop overnight in a caravan park. While we were shopping, we were advised to go to a park a few kilometres out of town which we had seen on the way into town and had noticed that it was a pleasant place with lots of room and lots of grass.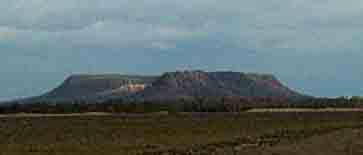 While we were booking in we saw a flier for a guided tour of Mount Oxley and the Town.
The town section of the tour was a visit to the new and unfinished Back o' Bourke Exhibition Centre and a drive round he town seeing all the historic buildings. I noticed that all the pubs in the town have been renamed in the recent past, so much for history.
The Maritime Courthouse is a wonderful old building with a touch of the orient in the architecture and is a reminder that Bourke was once the biggest inland port in the southern hemisphere.
The second half of the tour was a drive about 25 km (15 miles) out of the town to a strange rocky hill rising steeply out of the plain . We were entertained by the property owners.
Denise told us the history of some very strange rock formations on the top of the mountain which look just as though they are the result of blasting but which are described in the journals of the first explorers in terms which show that they haven't changed in any significant way in the past 175 years.
Bill cooked the most excellent scones and billy tea. The tour was remarkably pleasant and illustrated the oft forgotten truth that every town has pots of interesting things to see if you know how, or are lucky enough, to find them.
---
[Previous]
[Next]
[Top of Page]
[Index]
[Home]
---
Created: 04.10.2003 and last revised 05.10.2003
Author: Robin Chalmers Copyright in all the material on this site is asserted by the author
Contact the webmaster
---