Port Gibbon, SA
S 33°48'06" E 136°48'06
Tue 25 Nov 2003
---
[Previous]
[Next]
[Bottom of Page]
[Index]
[Home]
---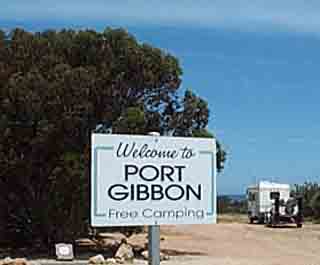 After breakfast we took a walk on the headland and along the beach. The plant life here is really amazing. The aspect is due south which faces straight into the Southern Ocean and the rainfall is very low but there are many different plants making a living here. The pigface and the native dandelions are in bloom and the many shrubs are very green. There was even a tree about 600 mm (2 ft) tall with a trunk about as thick as your arm.
On the beach we saw a flock of Little Stints, a rare vagrant species which migrates south from the arctic each year and a few reach as far south as Australia.
We travelled on to the next free camp listed in the book which was only 6 km (4 miles) away.
Port Gibbon is a tiny village of weekenders with a very few permanent residents but they have provided a camping area which carries a sign announcing "Free Camping". There is water here and bins and it seems the place gets really popular in the holiday period We were joined by a couple in a caravan. Jim is a loquacious Scottish widower from Greenock and his partner, Val, is an Australian widow. They both fish and this is their favourite fishing spot.
---
[Previous]
[Next]
[Top of Page]
[Index]
[Home]
---
Created: 25.11.2003 and last revised 25.11.2003
Author: Robin Chalmers Copyright in all the material on this site is asserted by the author
Contact the webmaster
---