Coolmunda Dam, Qld
S 28°24'59" E 151°14'01"
Tue 1 Feb 2005
---
[Previous]
[Next]
[Bottom of Page]
[Index]
[HOME]
---
[Earlier Visits]
---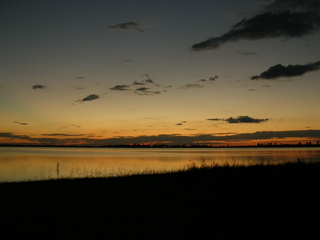 Having used up much of the time we needed to make a leisurely transit, and having promised Vicki Samin some help with the chapter computer to Victoria, we set as fast as we could for Barraba in northern NSW.
We stopped for lunch and a bit of shopping in Warwick and reached Coolmunda Dam before we stopped, having done the best part of 300 km (200 miles).
The lake was beautifully placid and the sunset was pretty impressive as was the thunderstorm somewhere to the east.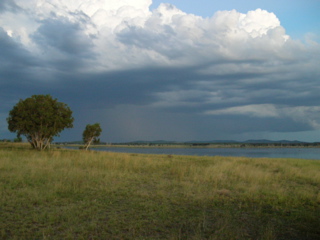 We have another 300 km to go to get to Barraba but the roads will be less Motley friendly so we might have to stop overnight at Warialda. We'll see how it goes.
---
[Previous]
[Next]
[Top of Page]
[Index]
[HOME]
---
Created: 31.1.2005 and last revised 2.2.2005
Author: Robin Chalmers Copyright in all the material on this site is asserted by the author
Contact the webmaster
---