150 Meridian, NSW
S 31°03'47" E 150°00'00"
Mon 25 Apr 2005
---
[Previous]
[Next]
[Bottom of Page]
[Index]
[HOME]
---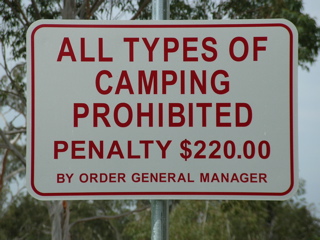 We set off towards Barraba. Gilgandra Tourist Information Centre is adorned with a sign which bans all types of camping.
I am intrigued by this sign because I don't know what it means and I suspect that the people who put it up don't know what it means. If I am parked during the day and take a short nap to "revive and survive" am I camping or does "camping only happen at night. The fac that I can ask this question seems to me to indicate that there is no rigour in the regulations which local councils put in place to limit our use of their facilities.
I planned to stop at camp site in Mullaley but when we reached it, we found that it was a pull off right in the centre of the town. There was a police car carrying out breath tests right where we would have parked if we had stayed there.
We went on to the next listed site which was the rest area on the 150 degree meridian. There were a couple of caravans already parked so I went over for a chat. It turned out that they were from Arana Hills and were surprised when I said that I was heading for Ferny Hills to visit the grandchildren.
---
[Previous]
[Next]
[Top of Page]
[Index]
[HOME]
---
Created: 24.04.2005 and last revised 25.04.2005
Author: Robin Chalmers Copyright in all the material on this site is asserted by the author
Contact the webmaster
---