Narrabeen, Sydney, NSW
S 33°42'04" E 151°18'20"
Wed 30 Nov - Sat 3 Dec 2005
---
[Previous]
[Next]
[Bottom of Page]
[Index]
[HOME]
---
Wednesday 30th Nov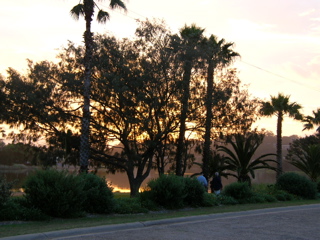 The rain seems to have gone away, at least for the moment.
I packed up the Motley and moved to the caravan park in Narrabeen in readiness for Jean's return.
I spent the afternoon with some other friends from Wormald Technology, Ron and Mary Hastings. We did a lot of catching up, looked at photos of Julia, Currawinya and the Motley, and attempted to solve some of the world's present problems.
Thursday 1st Dec
I went to the dermatologist to check the result of the excision of the BCC last month. He was happy with the healing of the wound and said that the pathology test had shown that he had got all the dangerous cells.
I spent the morning shopping to stock up with fresh food and I spent the afternoon making sure the Motley was spick and span for when Jean returns.
Friday 2nd Dec
I was awake at sparrow fart because Jean's plane was due in at 7.45 am. I rang the airline and the plane had been delayed until 8.05 am. I headed off from Narrabeen at 6.45 wondering if I had allowed enough time to traverse the city to the airport. I was parked in the airport car park and in the terminal building at 7.40. I had some breakfast. Just as I finished, I saw a United 747 coming into the terminal. It was indeed Jean's plane. I joined the crowd of people at the arrivals gate and waited patiently for Jean to appear. She came out at about 8.55. It seems that despite upgrading to business class, her luggage took an age to appear on the carousel.
She accepted an offer of a cup of coffee before we took to the city because she had been unable to get much of United's food into her on the way from San Francisco.
When we got back to the Motley, she had a shower and a bit of a sleep.
Saturday 3rd Dec
Jean didn't get a good night's sleep as she was coughing badly throughout the night. Though I had made an appointment for her to see the doctor on Monday, I decided not to wait till then and we went to Frenchs Forest to see the first available doctor. He reassured Jean that her ears were OK but prescribed an antibiotic for the chest condition.
I had planned to celebrate her birthday at our favourite Thai Restaurant but she didn't feel well enough to go out. We decided to leave tomorrow to get back to the comfort of the house in Barraba as soon as possible.
---
[Previous]
[Next]
[Top of Page]
[Index]
[HOME]
---
Created: 28/11/05 and last revised 23/5/06
Author: Robin Chalmers Copyright in all the material on this site is asserted by the author
Contact the webmaster
---