The Motley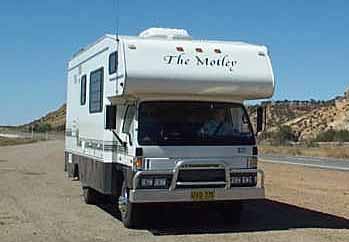 ---
[HOME] [Bottom of Page]
---
The Motley is a Winnebago Alpine 235RB5 motorhome built on a Mazda T4600 chassis.
It is equipped with everything one would need for comfortable living over extended periods.
It has triple energy sources, gas, 12V DC, and 240V AC. This last can be through a 1000W inverter for supplying such things as TV, VCR, computer, toaster, electric jug, microwave oven, phone chargers and so on. This takes its power from a large bank of deep cycle house batteries which also power all the 12V DC services such as lights, water pump and fans. The vehicle can also be connected to a local mains power supply to allow the use of the roof-mounted air conditioner and to charge the batteries.
The living room area has a three seater settee and a swivel armchair together with a convenient drinks shelf and bottle storage rack. It includes a TV and VCR with a wind-up and steerable antenna.
A double bed, fitted above the cab, is hinged and has gas struts to facilitate stowing. The three seater settee can be converted to a double bed, and the dinette converts to a single bed.
The kitchen is equipped with a four burner gas stove and grill, a microwave oven, a range hood, a two door fridge-freezer, metering for the fresh water, grey water, and black water tanks and the house batteries.
The power systems panel allows control and selection of 12V DC and of 240V AC and meters voltage and current both for the batteries and for the incoming mains supply.
Hot water, which is gas fired, is pressurised by an electric pump. The water system can be connected to mains water and the grey and black water tanks can be easily drained into suitable dump points.
The dinette seats four and can double as the work space for sewing or computing.
The bathroom is fitted with a separate shower which has its own ventilation fan, a flushing toilet and a fully featured vanity unit.
There is considerable storage inside and large lockers underneath.
The cockpit is well equipped with aircraft-type seats, adjustable steering wheel, folding gear lever to permit easy access to the driving seat from inside, and cab air-conditioning.
A large awning provides shelter when eating or relaxing al fresco. An external shower (both hot and cold) can be used after swimming to avoid getting sand inside the vehicle.
The steps at the main door are electrically driven and are automatically retracted when the door is closed. A security system warns of intrusion and remotely locks the cab doors.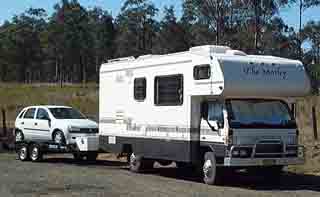 The motorhome is just 7.2m (24ft) long, 2.4m (7ft 10in) wide, 3.5m (11ft 2in) high, and weighs 4.6 tonnes unladen and 5.9 tonnes on the road. The 4.6 litre (280cu.in) diesel engine produces lots of torque and achieves fuel consumption of about 17litres/100km (17mpg).
We took delivery on 27th January 1998 and completed the final fitting out with only a very few minor details needing modification.
I have originally added a CD player with rack for 120 CD to provide music while we are out of range of ABC radio. The advent of the iPod has given rise to Radio Motley. The iPod holds all of our CDs, about 6 days of continuous play. It is equipped with an FM transmitter which allows the music to be played over the cab radio. We can now have continuous entertainment without the need to load the CD changer every few hours.
We have also taken the opportunity to replace the TV which was suffering from vibration damage with an LCD screen set with built both analogue and digital receivers, this for use when we are camped in towns, like Mt Gambier, which have this facility.
There is enough storage space to allow us to take everything we want including laptop computer, an Apple MacBook, with DVD drive, an inkjet printer, a Nikon digital camera, a sewing machine and an overlocker, lunch table and chairs, full tool kit, and lots of books.
As we have become familiar with the full requirements of a truly self-contained motorhome, we have added a 320 W solar battery charging system and a 3.6 kW generator and a battery monitoring system which continuously monitors and reports the state of charge of the house batteries. We have also made numerous minor modifications to improve the safety and the usability of the vehicle.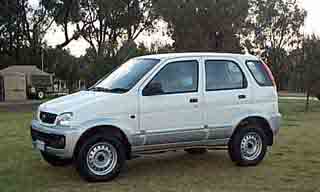 We have now added a car and trailer to give another dimension to our travelling.
We originally bought a Holden Barina which was very nice and entirely suitable as a town car. The trailer is a full sized car transporter with a large locker to provide more storage space for garden shed kinds of things.
We have since realise that we need a vehicle capable of negotiating the kind of roads which commonly provide access to National Parks.
The car is now a Daihatsu Terios which is baby four wheel drive with reasonable ground clearance, constant four wheel drive with limited slip differentials on the front and rear axles and an electrically operated diff lock for the fore and aft differential. The Terios proved itself to be a real four wheel drive and not a toy when we visited Baldie Peak.
The all up weight of the whole rig is now a touch over eight tonnes. The fuel consumption has increased a bit but somewhat less than the increased mass of the combination and the speed up hills is slightly reduced but not enough to cause any inconvenience.
---
[HOME] [Top of Page]
---
Created: 25.01.1998 and last revised 2/1/08
Author: Robin Chalmers Copyright in all the material on this site is asserted by the author
Contact the webmaster
---