Harbour Bridge, NSW
S33°51'17" E151°12'30"
Sun 28 May 2000
---
[Top of Page]
[Bottom of Page]
[Index]
[Home]
[Back]
---
Walk for Reconciliation, Corroboree 2000
The Aboriginal Reconciliation movement had organised a walk across the Harbour Bridge as part of Corroboree 2000.
We decided that we could do something practical to show John Howard how wrong he is on the issue of reconciliation.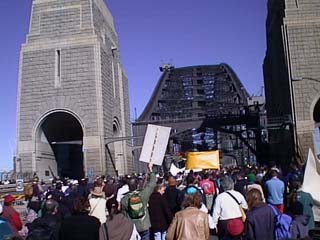 The walk was to be from North Sydney Station to Darling Harbour starting at 8am with the last to start at noon. We slept in but we arrived at North Sydney at 11.20. We had expected to be part of a final dribble of people at the end of a perhaps significant affair. In the event we were part of a huge crowd and the end of the march was so far behind us that we couldn't see it.
The estimates on the TV news were 150,000 to 250,000. I calculated 200,000. At all events it was quite a demonstration of public support for the cause of reconciliation.
The crowd was very well behaved but largely kept to themselves with most of the conversation being within groups of people walking together in typical city dweller fashion. We did meet some most interesting people.
One was a young accountant born in China who came to Australia to study in 1992 and now works here. He is at a loss to understand how or why the Prime Minister adopts the position he does. He told us how privileged he feels to be able to live in one of the world's most peaceful society. He was walking in support of aboriginal rights as a member of another of Australia's minorities.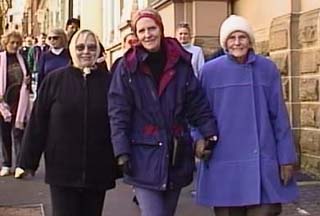 We also met an 80 year old lady from Cairns who was walking with her daughter. When she was bringing up her family in Cairns, if you needed domestic help you went to the police station who would allocated you aboriginal workers. As the daughter had grown up she had realised that there was something wrong with the way aboriginals were treated. She learned about the stolen generations and had convinced her mother that the domestic help she had employed, and perhaps exploited, must have been from the stolen generations. Here they both were walking across the bridge in solidarity with the aboriginal cause and very exhilarated to be able to express there sorrow and regret in a meaningful way. I photographed them with Jean as we were walking down to Circular Quay after the walk.
We returned home by ferry and bus and reflected on the fact that it might be the last time we look on this wonderful city as residents.
---
[Top of Page]
[Bottom of Page]
[Index]
[Home]
[Back]
---
Contact the webmaster
Created by Robin Chalmers on 29.05.2000 and last revised 29.06.2000
---