Frenchs Forest, NSW
S33°45' E151°14'
Sun 21 May - Thu 29 Jun 2000
---
[Previous]
[Next]
[Bottom of Page]
[Index]
[Home]
---
[Earlier Visits]
---
Sunday 21st May
As there are things to be done, we returned to Bluegum.
Friday 26th May
We've accepted an offer on the house. Contracts have been exchanged with settlement on Fri 30 Jun. We'll have to clear the house and BigAl and Woodie will have to find places to live. Soon it will all be over and we can get on with the important business of being genuine grey nomads.
Sunday28th May
We joined with many, many others in the Walk for Reconciliation.
Saturday 3rd June
Al has found a place to live in Jindabyne St sharing with four other fellows. The rent is moderate, he can take Monty and they don't mind smokers so he is well satisfied.
Saturday 10th June
We have spent the past week packing. Ugh.
The truck came early to pick up all the stuff going to Ferny Hills. Some furniture for Sarah and 40 boxes of books, crockery, pictures, ornaments, the LCII and printer, and some oddments including the Festival of the Winds posters which surfaced during the clean-up.
The skip also came today and we had to fill it with all the accumulated junk of nearly 30 years. Big Al did a wonderful job with the wheelbarrow from his new residence. He really put his back into the task and made it really easy for Jean and me. His help was much appreciated.
Sunday 25th June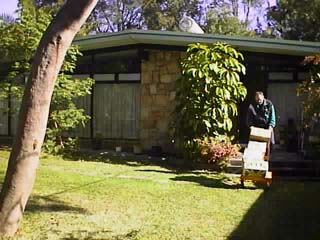 We went to Al's place for coffee to meet his new roomies and to check on Monty. He seemed OK though he wouldn't come out from under Al's bed to say "Hello".
Woody moved out on Wednesday, Vinnies came on Thursday to pick up the furniture and stuff that nobody wants.
Friday 30th June
We left at midday on Friday.
---
[Previous]
[Next]
[Top of Page]
[Index]
[Home]
---
Contact the webmaster
Created by Robin Chalmers on 21.05.2000 and last revised 23/5/06
---