Ashby, NSW
29°26' E 153°12'
Tue 25 - Wed 26 Jan 2000
---
[Previous]
[Next]
[Bottom of Page]
[Index]
[Home]
---
We had to get the Motley registered by the 27th so I arranged the CTP Insurance at the NRMA place in Kyogle. The poor lady there had to ring Sydney several times because the computer system didn't seem to know anything about motorhomes. All was finally fixed and we had to go to Casino to fix the rego.
We had shopped in Casino before but I had completely forgotten and Jean was saying, "If you go down here and turn left you can park behind the Library". My mind eventually got into gear and I worked out where we were.
Val and Les Kerr have recently moved to Ashby, just across the river from Maclean, so we called in to see them.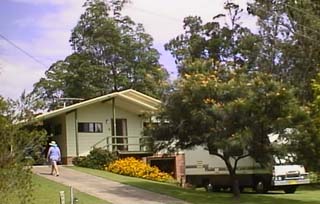 There new house has a beautiful half acre garden filled with Australian native shrubs and trees and all kinds of birds. The Blue-faced Honeyeaters made themselves particularly obvious feeding on a Grevillia just outside the dining room window. The house also has a big workshop so both Val and Les have exactly what them wanted.
We parked the Motley on the front lawn and went out to dinner at Yamba, drank coffee and port and talked until the small hours. Very pleasant.
We decided to take a lay day and went with Les and Val for a walk through the local rain forest National Park.
On the way home, we had a couple of beers in the pub to quench the thirst.
Les and Val took us out to dinner in the local Indian restaurant called "The Spice Rack" which is run by an Indian/Australian banana farmer from Woolgoolga who opened the restaurant to make ends meet when the bottom fell out of the banana market. The food was as good as any I have eaten in Sydney.
---
[Previous]
[Next]
[Top of Page]
[Index]
[Home]
---
Contact the webmaster
Created by Robin Chalmers on 26 Jan 2000 and last revised 26.01.2000
---