Bellevue Hill, NSW
33°53' E 151°15'
Fri 25 February 2000
---
[Previous]
[Next]
[Top of Page]
[Bottom of Page]
[Index]
[Home]
---
Jeremy and Rachel get married today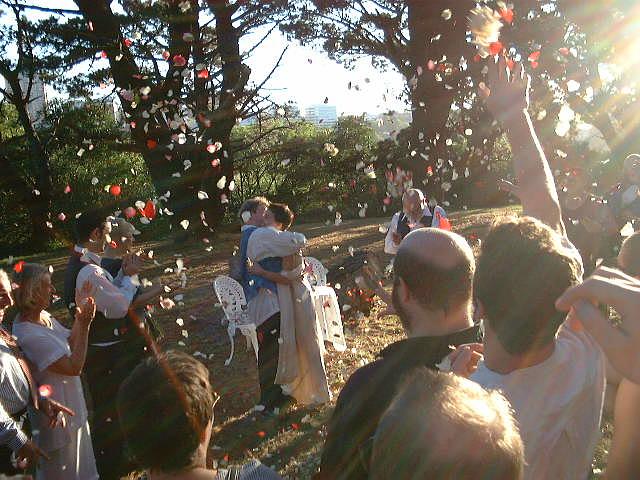 It was a wonderful affair. Jeremy's parents had offered their house in Bellevue Hill for the reception and Rachel and Jeremy had chosen the pine grove in the park opposite as the venue for the ceremony.
When Rachel, Kelly and I arrived, everyone had gathered among the trees. Alain and Emma had arranged a pathway through the assembled and as we approached they tossed rose petals on the ground for us to walk on.
The celebrant did a good job of capturing the appropriate balance between the formal and the spontaneous.
When the deed was done. Alain had arranged for several people to toss rose petals in the air over the happy couple.
Rachel looked absolutely beautiful. She wore a very simple but beautifully cut champagne coloured long silk dress with a matching stole. She carried a big bouquet of cream coloured roses arranged by her friend, Kay King.
Kelly, the flower girl, also looked wonderful in a long bright blue silk dress, made by her mother. She carried a small bunch of cream and red roses.
Kay also decorated the house with lots of beautiful arrangements of gum leaves and proteas.
We all repaired to the house for much eating, drinking, dancing and general merriment. Everyone had a wonderful time.
The guests, who came from many different and disparate parts of society, all mingled very well and there was no feeling of anyone being left out.
It was especially good to see Barb and Ron who had travelled from Brisbane, Tussie and Reg, Jenny and her husband, Hazel and Jeanette as well as Jeremy's relatives including his two Godfathers and all Jeremy and Rachel's friends from Sydney, San Francisco and London, all of whom had come to celebrate with us.
We'd been smart enough to park the Motley in Bellevue Hill so, at some very late hour, we strolled across the park and went to bed.
---
[Previous]
[Next]
[Top of Page]
[Index]
[Home]
---
Contact the webmaster
Created by Robin Chalmers on 10.03.2000 and last revised 10.03.2000
---