Orroral Valley, NSW
S35°38' E148°57'
Fri 7 - Sat 8 Apr 2000
---
[Previous]
[Next]
[Bottom of Page]
[Index]
[Home]
---
We arrived at Calwell at about 11am and did a little shopping before going on to the Bannisters.
Bob had taken a half day off to visit Sarah's school so we had morning tea and a chat before he went to work. They were both very pleased that we had stopped off and begged us to stay for the weekend.
We had lunch with Louise and stayed for afternoon tea so that Sarah would be able to see us.
She has grow into quite a young lady since we saw her last which must be three years ago.
Canberra & Region Wanderers Chapter Meeting
We headed off to Honeysuckle Creek camp ground in the Namadgi National Park to spend the weekend with the Canberra and Region Wanderers at their monthly gathering. As it happened the venue was changed at the last minute to the old Orroral Valley Tracking Station site because there had been lots of bookings for the other camp grounds.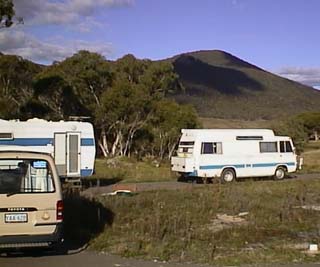 Some of the participants were a bit upset because the site is concrete and tarmac with no shade trees but I found it fascinating as they have installed markers explaining the original purpose of each set of foundations. The 26 metre dish, the 9 metre dish, the minitrack, the satelite tracking cameras and the lunar ranging laser and so on. I had never been there when AWA ran the operations but I had known some of the staff and had a pretty good idea of what went on when this was a key station in the NASA space programme.
Strangely, one of the Canberra Wanderers was an ex Auslig guy who had participated in moving the lunar ranging laser to a new site on top of the ridge and operating it for terrestrial laser ranging. He had lost his job when the funding dried up and is now an apprentice green keeper!!!.
The only somewhat nice thing about this whole sorry story was that the key equipment was spirited away to the Mount Stromlo Observatory so that it might continue to contribute to some useful activity.
We had a very pleasant weekend with the Canberra Wanderers who, unlike some chapters, value conversation above time filling activity so we talked a lot but didn't play disc bowls or scrabble
---
[Previous]
[Next]
[Top of Page]
[Index]
[Home]
---
Contact the webmaster
Created by Robin Chalmers on 07.04.2000 and last revised 08.04.2000
---