Mount Beauty, Vic
S36 °44' E147°09.5'
Sun 16 Apr 2000
---
[Previous]
[Next]
[Bottom of Page]
[Index]
[Home]
---
I managed to dump the black water with no help from the caravan park owner.
We won't come back to the Pine Valley Top Tourist Park. We don't need places where the fees are theirs and the problems are ours.
We had been advised to compare Bright and Mount Beauty so we headed east.
The road climbs to 900 metres (3000ft) and there is a superb lookout at the highest point. The view is of the Kiewa Valley and it looks picturesque. Compared to the Ovens River at Bright, this is very scenic.
We thought that we would go on the 30 km (20 miles) to Falls Creek as we were so close. The road is called the Bogong High Plain Road but it is a real mountain road all the way to Falls Creek.
Falls Creek is 1200 metres (4000ft) higher than Mt Beauty and the forest changes several times on the way. Above 1000m (3300 ft) the trees are really tall straight eucatypts and at 1500 m (5000 ft) they are small twisted snow gums.
As we reached Falls Creek, the weather broke and the rain started in earnest and then turned to hail. We didn't stop but turned back downhill to Mt Beauty.
On the way out of Falls Creek we noticed parking spaces beside the road down the hill from the town. The last of these was nearly 4 km (3 miles) from the town. We speculated on what possesses people to come to this place in the dead of winter and have to park so far from their destination. Perhaps there's a shuttle bus. Even so, it is astounding what grown people will do in order to throw themselves like lemmings in large crowds down steep, snow covered hills on expensive pieces of wood.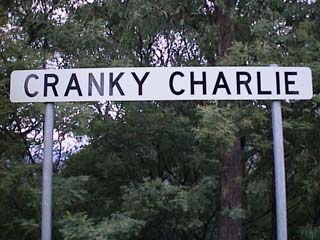 On the way up the mountain we had seen a sign which deserves to be captured for posterity. On the way down we stopped to photograph it. Of course, we don't know anyone called Charlie after whom this place was named.
Back in Mt Beauty we went in search of some hot soup to offset the inclement weather. Even though it was Sunday and even though it's a small town and even though it wasn't high season, one would have thought someone would sell soup!!!.
---
[Previous]
[Next]
[Top of Page]
[Index]
[Home]
---
Contact the webmaster
Created by Robin Chalmers on 16.04.2000 and last revised 16.04.2000
---