Ross River Homestead, NT
S 23°35'46" E 134°29'17
Sun 8 Oct 2000
---
[Previous]
[Next]
[Bottom of Page]
[Index]
[Home]
---
We decided to explore the East McDonnell Range first.
The road out of Alice Springs is on the south side of the range and winds its way along the flat floor of the valley past some magnificent scenery.
The land is really very well covered with vegetation and, though the last good rain was at Easter time, the place is very green and there are lots of wild flowers.
We visited both the Emily and Jesse Gaps. These are places where the south flowing creeks have eroded the range right down to the level of the plains on both sides of the range so that one can walk right through from on side to the other on the sandy creek bed. There is a little waterhole right in the gap and the birds occur in vast flocks, Diamond Doves and Zebra Finches especially.
Further on there is on outcrop called Corroboree Rock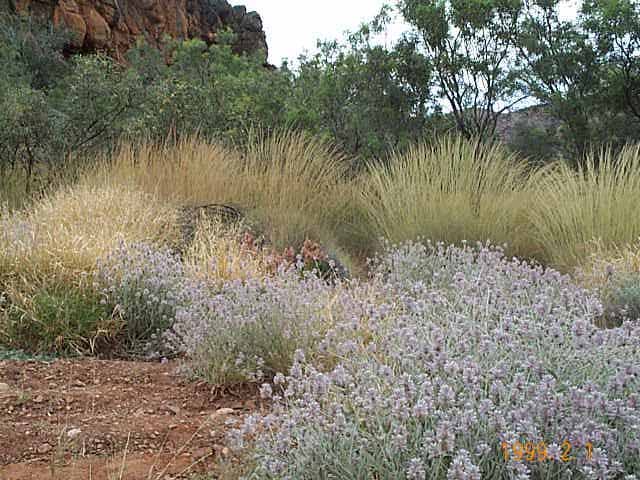 The wild flowers there were just unbelievable. The photo shows Silvertails and Spinifex with Acacia trees in the background and just a little bit of the rock.
We went to the end of the bitumen and stayed overnight at the Ross River Homestead. We found that not everyone had gone home from the rally, many had the same idea as we had and the camp ground was pretty well full of motorhomes.
---
[Previous]
[Next]
[Top of Page]
[Index]
[Home]
---
Contact the webmaster
Created by Robin Chalmers on 23.09.2000 and last revised 04.11.2000
---