Glen Helen Gorge, NT
S 23°41'10" E 132°40'24
Sun 15 Oct 2000
---
[Previous]
[Next]
[Bottom of Page]
[Index]
[Home]
---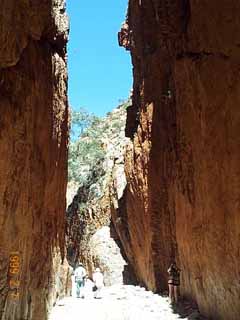 We had to explore the West McDonnell range so we headed off to the west.
The plan was to go to the end of the bitumen at Glen Helen and work our way slowly back to town.
As we were heading west , I realised that we could visit the Standley Chasm, one of the local sights, at midday which is the preferred time to see it as the sun is overhead and brings out the colours of the rocks.
This place is on private property and one has to pay to park and walk up a bush track to get to the chasm which is a cleft in the rock at the top of the ridge. It is narrow and deep but not very long. I was a bit disappointed as the postcards give one the impression of something altogether more impressive. Perhaps the light wasn't quite right.
.
We continued the drive to the Glen Helen Gorge and booked into the (very expensive) caravan park attached to the hotel.
---
[Previous]
[Next]
[Top of Page]
[Index]
[Home]
---
Contact the webmaster
Created by Robin Chalmers on 26.10.2000 and last revised 08.11.2000
---