High School, Griffith, NSW
S 34°17'34" E 146°02'23
Tue 27 Mar - Sun 1 Apr 2001
---
[Previous]
[Next]
[Top of Page]
[Bottom of Page]
[Index]
[Home]
---
Tuesday 27th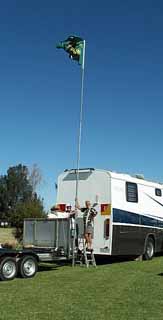 We stretched the friendship with the locals by sleeping in till 9.30 am.
The drive to Griffith was easy but marked by having to stop at the fruit disposal point to lose the remaining bananas. The place was very untidy with lots of rubbish which I cleaned up. I used the gear from the KESAB (Keep South Australia Beautiful) kit provided to us at Alice Springs. The kit includes a reporting form which I filled out and sent off.
We arrived at Griffith in the afternoon and stopped at the TIC (Tourist Information Centre) to find the location of the dump station specially installed for the rally. We found it, used it, did a little shopping and then went to the High School where we settled in with the six or eight motorhomes already there.
Happy hour went on happily until the cool of the evening drove everyone into their motorhomes.
Wednesday 28th
We went to town to pick up the mail. The only exciting thing in the mail was my copy of Mac OS 9.1. Installation went without a hitch. I assume I'll get more reliable operation as I can see no obvious difference from v9.0.4.
Warren Wade took it upon himself to provide a suitable pole for the new Chapter flag. It turned out to be exactly right. Its 9 m (30 feet) high and will make the flag visible from everywhere at the rally site.
Thursday 29th Mar - Sunday 1st Apr
We shopped when necessary, hung about, and had happy hour every day.
Dog is the head honcho of happy hour. Others sometimes grace the evening but, without a doubt, Dog is king. Here he is holding court one evening when all the others came.
---
[Previous]
[Next]
[Top of Page]
[Index]
[Home]
---
Contact the webmaster
Created by Robin Chalmers on 26.03.2001 and last revised 05.04.2001
---