Derby, WA
S 17°19'09" E 123°38'32
Mon 5 Aug 2002
---
[Previous]
[Next]
[Bottom of Page]
[Index]
[Home]
---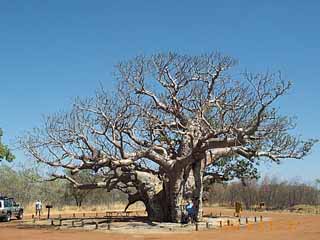 We stopped for morning tea at the Boab Rest Area which has, of course, a great big Boab tree in the middle.
Needing to do some shopping and having been advised that the shopping in Derby is much cheaper than in Broome, we took a little diversion off the Great Northern Highway.
The Tourist Information Centre arranged for us to camp at the showground free (as we didn't want any power). We took a drive out to the wharf which is at the end of a long road across the mud flats which only get inundated at the highest of tides. Tides here are gigantic with a range of up to 10 metres (32 feet). Today the range was a measly 4 metre (13 feet) and we saw it at low tide, not very pretty. As it was Monday, the Wharf Restaurant was closed so we couldn't even get fish and chips to enliven the experience.
We spent a quiet night camped in the dog exercise area.
---
[Previous]
[Next]
[Top of Page]
[Index]
[Home]
---
Contact the webmaster
Created by Robin Chalmers on - 05.08.2002 and last revised 10.08.2002
---