The Lake at Ellendale, WA
S 17°57'28" E 124°50'27
Sun 4 Aug 2002
---
[Previous]
[Next]
[Bottom of Page]
[Index]
[Home]
---
We were up and away at the amazingly early hour of nine o'clock. We plan to be in Broom by mid-week so we needed to make good progress.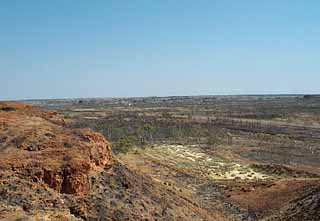 We had morning tea at a place called Ngumban Cliffs Lookout. This is a rest area perched up on a bluff overlooking Kelly's Pass where the road cuts through between two rocky ridges. From the lookout you can't actually see the Ngumban Cliffs which are a little way past Kellys pass but the view is spectacular after so much flat country.
We stopped for fuel and lunch at Fitzroy Crossing and pressed on to the west. As we were driving along, we got a call on the CB from a coach which had just passed us going east. We had had morning tea and a chat with the driver and cook at a rest area in NT and talked about the quarantine check point. The coach had just been to Tunnel Creek and Windjana Gorge and driver recognised us and called to wish us a good day and safe travelling. It's quite amazing what community develops on the highways of this vast country.
The planned overnight stop was at a rest area 80 km (50 miles) down the road but when we got there it was too pokey and too sandy for our liking so we went on to the next place which was only a few kilometres further on. This is a big campground by a lake on a property made available by the owner as a memorial to his son who was killed in a road accident. It is a very big area with lots of people already there and we weaved our way through the trees until we found a comfortable spot and settled in for the night.
---
[Previous]
[Next]
[Top of Page]
[Index]
[Home]
---
Contact the webmaster
Created by Robin Chalmers on - 05.08.2002 and last revised 07.08.2002
---