Hyden, WA
S 32°26'30" E 118°53'50
Mon 14 Oct 2002
---
[Previous]
[Next]
[Bottom of Page]
[Index]
[Home]
---
The drive east took us through some heartbreakingly dry farmland. Most of the fields have crops only a few inches high which are turning brown as the drought deepens.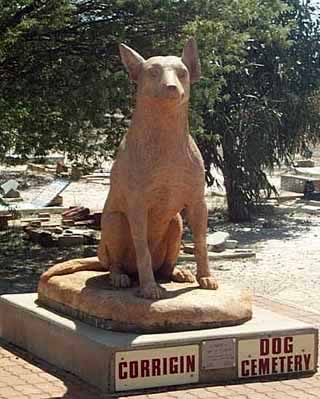 Strangely the wildflowers which have been missing since we left Northam suddenly appeared again Corrigin is a little country town with two calims to fame. It has a dog cemetry and it boastsd the world record for the largest convoy of "Dogs in Utes" ever assembled - 699 utes each with a dog in the back drove in convoy into the town in October 1998.
We arrived at Hyden in time for lunch and booked into the caravan park so that we could run the aircon by day and the heater by night if necessary.
We first visited the Hippos Yawn, a rock formation which is aptly named. It was pretty much what you see is what you get with no interpretive signage and not much protection for the rock itself.
We then drove 20 km (12 miles) to the north to Mulkas Cave which is a pretty significant aboriginal site with cave paintings and its own dreamtime story but it didn't look well cared for.
I suppose our experiences in the Northern Territory where there is a lot of respect shown to aboriginal culture has sensitised us to the kind of off hand treatment we see here.
We also visited the Humps dam. The Humps is a large granite formation 35 hectares (90 acres) in area which has had a large part of its runoff diverted into a man made dam for use as the town water supply.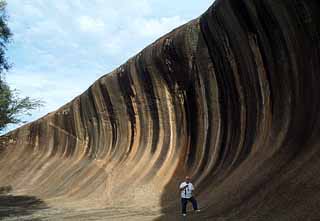 We returned to the caravan park and walked to Wave Rock. This is a pretty impressive piece of natural landscape though not as big as I had imagined it to be.
We climbed onto the rock where we suddenly came upon the dam which stores runoff water from the rock diverted into a natural gully which has been walled in to provide the original town water supply. The view from the top of the rock is most impressive with the whole landscape laid out at ones feet like some kind of child's toy countryside. At last the reason for our journey of 700 km (420 miles) was realised. We were happy that we didn't miss coming to this place.
---
[Previous]
[Next]
[Top of Page]
[Index]
[Home]
---
Contact the webmaster
Created by Robin Chalmers on - 13.10.2002 and last revised 14.10.2002
---