Taunton Farm, Yallingup, WA
S 33°48'38" E 115°07'20
Sun 27 - Tue 29 Oct 2002
---
[Previous]
[Next]
[Bottom of Page]
[Index]
[Home]
---
Sunday 27th
We had called in to another caravan park on our way back from lunch yesterday to check out the size of their sites. After breakfast we drove the 30 odd km (20 odd miles) to the new park. The weather had deteriorated and it was really wet so we settled in for a vegie day watching the motor racing from the Gold Coast on TV. The Indy car race was so exciting that we changed channels after a few laps.
Monday 28th
The weather hadn't improved much. It was sunny for a few minutes and then heavy rain fell. We hunkered down in the Motley waiting for an improvement.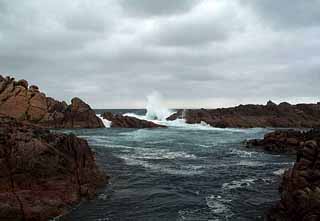 We finally got underway at midday and headed for the northern loop to Dunsborough and the Leeuwin Naturaliste National Park. It wasn't a good day for sightseeing and we didn't get out of the car at Cape Naturaliste because of the wind and the rain. We did get a good view of Canal Rocks a few miles down the road.
Visiting some more wineries seemed like a good idea. We had been given advice about boutique wineries with good shiraz so we stopped at Moss Brothers. Their entry sign says "No orchestras, just good wine" so I told the lady that we had planned to visit only wineries with live music but they were to be an exception. Their wine was all pretty good and we bought a bottle of Sauvignon Blanc Semillon which was the best of their whites.
Evans and Tate was definitely on the list to visit because we had discovered their Classic white in a bottle shop in Brisbane. They had had an American journo in and opened a bottle of 1999 Shiraz for him as it had won "Best Wine" in Paris in competition with 6000 other wines from around the world. It was so good that we shelled out much money to buy a bottle.
In the evening we had roast beef with roast potatoes and pumpkin and brocolli, cauliflower, peas and corn, white sauce and gravy - very delicious. Surprisingly, this is the first roast dinner we have cooked in the Motley!.
Tuesday 29th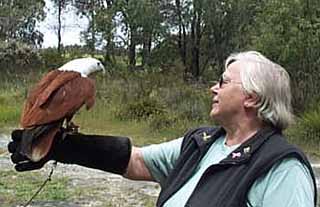 The weather was still a bit uncertain so we decided not to go touring. Instead, we went to the Eagle Heritage to see the raptors.
This has to be the best raptor display in Australia. The objectives of the park are the classic objectives of any good zoo - entertainment, education and conservation.
The first bird we met was Rusty, a 10 yr old female Brahminy Kite. She had been sent to Eagle Heritage from the border checkpoint where she was found in a car being smuggled from WA to SA. She had been stolen from a nest in the north of WA at a few days old and kept in a budgie cage for 12 months, well after she was fully grown. She had no primary wing feathers nor any tail feathers and she showed evidence of cigarette burns on her head and back. She was brought back to full physical health by the staff at Eagle Heritage but she suffers from such psychological damage that she could not be released into the wild with any expectation that she would survive We were all able to have Rusty on a glove on our hand so that we could get an up close and personal appreciation of her beauty.
David, the birds' keeper, spoke with great conviction and passion about the problems of raptors in Australia. Wedge-tailed Eagles can still be shot by farmers who can apply for a licence to kill them even though their numbers have plummetted from 2 million a century ago to 10,000 today and the CSIRO carried out a 15 year study which showed conclusively that Wedge-tailed Eagles pose no significant threat to any domestic animal flocks.
We also watched a Peregrine Falcon, hand raised from a hatchling in the park but now living free in the bush, being fed. We also saw a pair of Black Kites demonstrating their skill at catching prey on the wing and transferring it from talons to beak as they fly.
After the free flight display, we walked through the park and saw over a hundred birds. Most of them are permanent residents because they would not survive in the wild. Others are recuperating from some kind of injury and will be released when ready. There are two Wedge-tailed Eagles which are still resident because the keeper is scared that they would be shot if they were released. The park is also noted for a remarkable display of wild flowers of many, many species.
We returned to Margaret River for lunch and to spend time in the Cyber Cafe to do the web site maintenance.
---
[Previous]
[Next]
[Top of Page]
[Index]
[Home]
---
Contact the webmaster
Created by Robin Chalmers on - 27.10.2002 and last revised 31.10.2002
---