Eucla, WA
S 31°40'34" E 128°53'08
Sat 23 - Sun 24 Nov 2002
---
[Previous]
[Next]
[Bottom of Page]
[Index]
[Home]
---
Saturday 23rd
We had a laid back morning, headed of towards Eucla, filled up with water at the Kuthala Pass Rest Area and reached Eucla before lunch.
Eucla is perched up on the top of the escarpment at the head of Eucla Pass.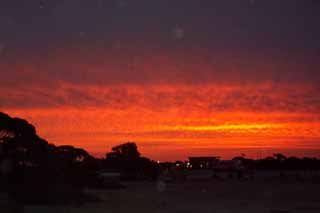 There is a caravan park with a great view over the edge of the escarpment, but there is also a big rest area so we headed for that.
The tourist attraction of Eucla is the Old Telegraph Station which is down on the coastal flat a few hundred metres back from the beach. The building which was built in sandstone is now derelict and partly buried in sand. Surprisingly, in the midst of coastal scrub, there is a thriving grove of gum trees nearby complete with resident honeyeaters.
We had elected to stop here so that we could watch The Bill. At 8.15 a great thunderstorm passed overhead and the TV link went down. It came back just before 8.30 so we didn't miss the episode after all.
Sunday 24th
The weather was still inclement so we decided to veg out here for another day. The cricket was on the TV and we were very cosy with the rain on outside.
---
[Previous]
[Next]
[Top of Page]
[Index]
[Home]
---
Contact the webmaster
Created by Robin Chalmers on - 23.11.2002 and last revised 26.11.2002
---