Yalata, SA
S 31°29'42" E 131°48'43
Mon 25 - Tue 26 Nov 2002
---
[Previous]
[Next]
[Bottom of Page]
[Index]
[Home]
---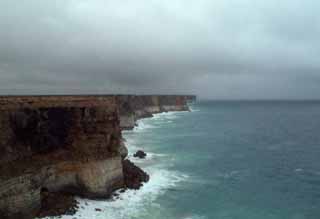 We headed east planning to stop somewhere nice between Eucla and Nullarbor. In the event, we didn't find anywhere nice because all the rest areas were either right on the top of the cliff and very exposed or were too small and cramped. This view from one of the lookouts shows how bad the weather was.
We had lunch at the Nullarbor Roadhouse in company with a very sad looking dingo with ribs showing and with an obvious dependence on the people at the roadhouse for food. It's so sad to see a wild animal brought down by its relationship with homo sapiens.
We decided that it would be a good idea to press on to the Yalata Roadhouse. This was a good decision as the caravan park is quite pleasant and very cheap.
Having had a good night we decided to stay on for another day before proceeding to Ceduna.
---
[Previous]
[Next]
[Top of Page]
[Index]
[Home]
---
Contact the webmaster
Created by Robin Chalmers on - 26.11.2002 and last revised 02.12.2002
---