Yerong Creek, NSW
S 35°21'01" E 147°04'22
Mon 30 Dec 2002
---
[Previous]
[Next]
[Bottom of Page]
[Index]
[Home]
---
I set off on the journey to Sydney. I didn't stop in Albury as there wasn't any where I could park.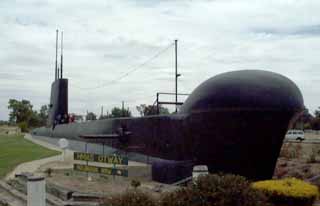 I visited Holbrook and found a submarine in the town park. Well, actually the above waterline casing of HMAS Otway. Apparently Holbrook is named after one of its settlers, a Commander Holbrook who was an English submariner. His family arranged, with help from the local Lions Club and others, to have this part of the submarine saved when she was decommissioned and installed in the park. It certainly make an eye-catching impression when one drives through the town.
Late in the afternoon, I came upon a little winery called Yerong Creek Estate which included a "Rest Area" sign on its gate. Being pretty bushed and not wanting to miss an opportunity for a free camp, I drove in.
The winery is a hobby for the father of the family whose two sons run the two family farms, one sheep, and the other crops. He sends his grapes to a nearby winemaker and has just opened the cellar door to try and develop the business.
I found the shiraz a little rough but the chardonnay was entirely acceptable so I bought a bottle and borrowed a few square metres of the property for the night.
It was very windy and the gas fridge wouldn't stay alight so I had to run the electric element off the batteries overnight. Happily the new batteries were more than adequate for the job and I didn't lose the frozen food.
---
[Previous]
[Next]
[Top of Page]
[Index]
[Home]
---
Contact the webmaster
Created by Robin Chalmers on - 30.12.2002 and last revised 31.12.2002
---