Tibuchina, Cooroy, Qld
S 26°23'19" E 152°55'42
Thu 13 - Sun 30 Mar 2003
---
[Previous]
[Next]
[Bottom of Page]
[Index]
[Home]
---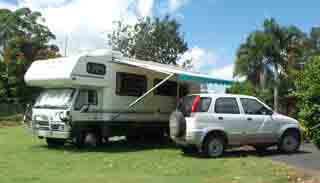 We relocated to Cooroy, settled in to the prime spot in the Procter's garden and prepared for an extended stay.
I cooked a big lot of curry and we all had it both Saturday and Sunday and there was still plenty left over to freeze for another time.
I lost a filling over the weekend and had to go to Tewantin to get an appointment with a dentist. Even then I had to wait until Wednesday for treatment.
Helene expressed a desire to learn how to play Mah Jong so we spent some time at that.
The wildlife here is something else. There is a family Butcherbirds and a family of Kookaburras that comes onto the deck every afternoon to be fed. The Kookaburras are so tame that you can stroke them. There are macropods in the bush behind the house. They weren't easy to identify but I believe they are Grey Kangaroos. They certainly aren't Black-striped Wallabies and they don't look like Wallaroos which are the most likely candidates. They are tame too and aren't disturbed when you go down to the fence to look at them. In the morning, the dawn chorus is noisy and very complex. The most outstanding contribution comes from the Red-tailed Black-Cockatoos.
I had eventually solved all the problems with the new computer and the mobile phone. I even managed to connect to the Highway Wanderers email account only to discover that there were over 400 messages waiting for me. I borrowed the Procter's phone line to send all my non-OzEmail messages and to download all the Highway Wanderers emails. Most of them were spam and of the few real ones, only a few need an apology for a late response.
On Tuesday and Wednesday it rained like there was no tomorrow. It's good to be snug in the Motley when it rains.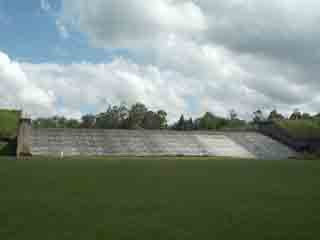 I did some much needed routine maintenance. The hot water heater needed cleaning out. The anode needed checking but it is still OK after five years - so much for the check and change every six months. I also sealed the top of the awning to stop rain flooding down over the windows. .
The visit to the dentist was extraordinary. Without any anaesthetic, the tooth was re-constructed and back in service immediately. Advances in technology are ubiquitous. I had had no pain from the tooth before or during the treatment but I did have pain for several days afterwards due, I suspect, to the movement of the tooth.
I spent a considerable amount of time tidying up my emails in the new email program. It was a monster job because I still keep emails from day one. I have finally relented and deleted some that are now meaningless but there are many that will never be referred to again. My only justification is that I have plenty of storage space and one is contsantly looking for things which haven't been used for years but which were kept in case. . . . .
Jean and Helene spent a day at Sunshine Plaza in Maroochydore shopping and having fun. I cooked corned beef and we dined well.
Helene went off on an adventure to Maryborough, Hervey Bay, Bundaberg, and Toowoomba planning to be back on Saturday so we elected to stay here until she gets back.
I had to take the Motley to Gympie to empty the black water tank.
Jean wanted to change some of the things she bought in Sunshine Plaza the other day so we went to Maroochydore in the Little Motley. We found all the shops we needed to visit but we found Maroochydore just as uncomfortable as always. I don't know what it is about the place but it isn't a pleasant place to visit.
---
[Previous]
[Next]
[Top of Page]
[Index]
[Home]
---
Contact the webmaster
Created by Robin Chalmers on - 13.03.2003 and last revised 02.04.2003
---