Heifer Creek, Qld
S 27°44'56" E 152°05'26"
Mon 7 Jun 2004
---
[Previous]
[Next]
[Bottom of Page]
[Index]
[Home]
---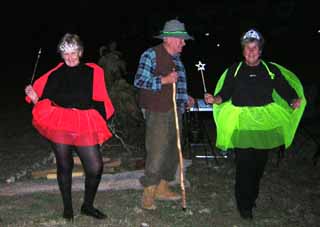 [Earlier Visits]
---
Brisbane Sunshine Wanderers Safari - Kalbar to Toowoomba
We left Kalbar on the first leg of the safari to Toowoomba. We went via Harrisville, Warril View, Rosevale, Rosewood, Grandchester, Laidley, and Gatton.
We stopped in Gatton to buy dress-up stuff for the evening entertainments of the safari.
We didn't arrive at Heifer Creek until after four by which time most of the twenty odd vehicles had already set up. We took up the same space we had used last time we were here and, as tonight was to be a fairy night, I set up the Motley's Xmas fairy lights in a nearby tree.
After dinner, we all sat round a campfire some dressed up as fairies. We all had a good laugh sharing readings, poems, and jokes until the rain sent us all back into our motorhomes.
---
[Previous]
[Next]
[Top of Page]
[Index]
[Home]
---
Created: 07.06.2004 and last revised 07.06.2004
Contact the webmaster
---