Franklin River Reserve, Vic
S 38°39'07" E 146°17'58"
Tue 15 Mar 2005
---
[Previous]
[Next]
[Bottom of Page]
[Index]
[HOME]
---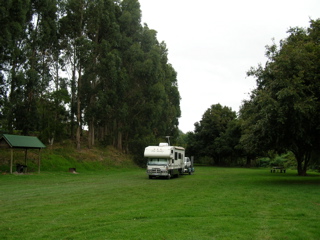 We slept in till quite late, had a leisurely breakfast. packed up, filled the fresh water tanks and set off to the east.
We had heard that one of our friends had fallen out of her motorhome, had broken her leg, and was in hospital in Wonthaggi. As we were just up the road from Wonthaggi, we decided to visit her in hospital. I rang her husband but his mobile was out of service. We stopped for lunch and tried his phone again, this time getting through. He told us that she was coming out of hospital today and that they were heading back to Sydney immediately.
We decided to proceed along the coast road going to Sale to check out some information for "The Book" before going to Moe for the chapter meeting next weekend.
There aren't a lot of places to free camp down here but we reached the Franklin River in good time. This is a deceptive site because when you enter it seems all too close to the road but there is a second road at the end of the rest area which leads down to a river flat which is very green, set about with really nice trees, and equipped with all the facilities needed to camp, and there are no "No Camping" signs.
We couldn't get any TV but we still hadn't watched video tape of the third part of "The Lord of the Rings" so that was our evening's entertainment. Jean got a bit bored with all the fighting but the ending was quite satisfying.
---
[Previous]
[Next]
[Top of Page]
[Index]
[HOME]
---
Created: 15.03.2005 and last revised 17.03.2005
Author: Robin Chalmers Copyright in all the material on this site is asserted by the author
Contact the webmaster
---