Currawinya, Barraba, NSW
S 30°22'50" E 150°36'38"
Sun 17 - Sat 23 Dec 2006
---
[Previous]
[Next]
[Bottom of Page]
[Index]
[HOME]
---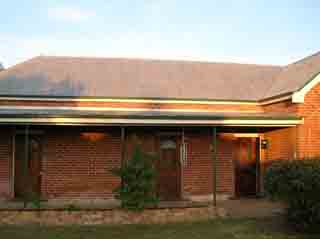 Sunday 17th
In the morning I had another Lions working bee, mowing the grass at the Lions rest area.
In the afternoon, we had a Barraba motorhomers happy hour at the Samin's house. We were eight in number and we happily chatted, nibbled, and drank until after seven o'clock.
Monday 18th
I gritted my teeth and started the painting of the new doors. I got all three done on the outside. I used a self-staining gloss varnish and the doors look pretty good and certainly meet the plan we had for the renovation. When I eventually get the re-pointing of the brickwork done the house will look really impressive.
Tuesday 19th
We went to Tamworth to do the last of the Xmas shopping. Jean bought me a hand held UHF CB and a 2GB USB memory stick and I bought her a 3m x 3m gazebo with an all round fly screen.
Wednesday 20th
I had promised to do the grass at the front of Elsie May's house as she had had to leave it while I painted the doors. I got out fairly early to avoid the heat of the day but I still came back indoors wringing wet.
I spent the early part of the afternoon erecting the new gazebo. It looks pretty good and it certainly works making it pleasantly cool sitting out on the back terrace. I still have to modify the fly screens but we aren't presently being eaten alive out there at the moment.
Thursday 21st
It rained overnight which tested the gazebo. I found one of the joints had come apart and the rain was pooling in the cover. I fixed the problem but the design is such that, without some modification, it will always pool rainwater.
After doing some chores in the morning, I did another stint selling raffle tickets in the afternoon.
Friday 22nd
I worked on raffle ticket sales in the morning and in the afternoon.
Saturday 23rd
I worked all day for the Lions Xmas Tree. It was a very successful event with everyone there happy and the children most appreciative of their Xmas presents and free drinks and icecreams.
I was amazed at the number of people who greeted me. I still have a problem with names and faces but it seems that I am now a part of the community.
I should have recognized this when the Post Office delivered a Xmas card which was addressed to
Robin and Jean Charlmers
Barraba
NSW 2347
I congratulated the Postmaster and he said they try to make sure all the Xmas greeting get delivered.
---
[Previous]
[Next]
[Top of Page]
[Index]
[HOME]
---
Created: 16/12/06 and last revised 25/12/06
Author: Robin Chalmers Copyright in all the material on this site is asserted by the author
Contact the webmaster
---