Currawinya, Barraba, NSW
S 30°22'45" E 150°36'18"
Mon 10 - Sun 16 Dec 2007
---
[Previous]
[Next]
[Bottom of Page]
[Index]
[HOME]
---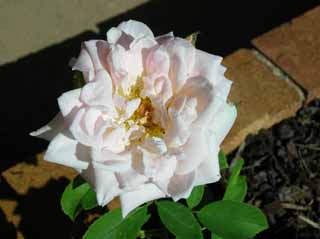 Monday 10th
I sold raffle tickets in the morning. I was by myself and only sold nine tickets and two cakes in three hours. We normally sell about a hundred tickets and one cake each day. It seems that a lone, recent arrival in the town ticket seller doesn't do too well. I had heard one old lady ask when Ken or Ron would be selling tickets as she would wait one for them to be on duty before she bought her tickets! I have asked them to arrange to always have two on duty as that seems to work better.
In the afternoon I did a couple of little jobs in the house. The grass is growing so fast that I could have mowed the front lawn again after only two days of rain and sunshine but I didn't need the exercise so it will have to wait.
In the evening we went to the Book Club Xmas Dinner at the Playhouse. We had a very pleasant evening. There were a few other men there so we chatted while the ladies did their book review.
Tuesday 11th
I did the raffle ticket sales again. I had a companion today so it was much better.
In the afternoon I did some simple tasks and took a rest.
The water heater failed. I had to go out in the rain to try and fix it. It had quite a lot of water in it, presumably from the rain we have had recently, so I dried it out as best I could but it still wouldn't work.
Wednesday 12th
I did another stint selling raffle tickets. Once again with a companion.
At lunch time I mowed the front lawn and got it done just before it started to rain.
In the afternoon, I caught up on a number of outstanding tasks to do with external people and organisations so the decks are now clear, at least for the time being.
I was going to ring the plumbing supplier in Tamworth to get some advice about the water heater but I thought to test it again and it was working! That's either Al's karma or my serendipity at work!
I had to start making another trifle for the Lions Xmas Party on Saturday as I will be in Tamworth on Friday.
Thursday 13th
It rained again overnight so I couldn't do any lawn mowing. I wasn't able to leave the raffle ticket selling to others today as only Ken and I volunteered. Both Ken and I are going to Tamworth tomorrow so we hope someone will tale their turn otherwise we'll lose an opportunity to sell tickets and cakes.
In the afternoon I made the trifle for the Lions Xmas party on Saturday. I will leave the trifle in the fridge and leave the house key with Ken in case I don't get back from Tamworth in time for the party.
Friday 14th
My appointment at the hospital was ten o'clock so we had to be out before nine.
We were in the hospital at about a quarter to ten. I was taken in for prep at half past ten. No-one thought to tell Jean what was happening and at about half past eleven she came to the Cath Lab to demand to know what was happening as she wasn't sure if I was still alive. I sent her off to get some lunch and arranged to have them ring her when the procedure was finished. We had booked a room in the nearest motel because eI had to stay in Tamworth overnight in case I had some adverse reaction to the angiogram. Jean went there, had her lunch, and came back to the hospital when they rang to say that all was done and I was OK. She was relieved to find me "blooming marvellous" and seemed to have got over the drama of the morning.
For the second time in my life I had surgery while awake. This time was not quite so strange as the other time. In the mid sixties I had a upper chest lymph glad biopsy. The anaesthetist wouldn't give me a general anaesthetic because I had a bit of a chest infection. She gave me local anaesthetic so I was awake during the whole operation. It took about forty minutes and I overheard all chat and jokes between the surgeon and the nurses. I also heard all his curses when the surgery wasn't going as well as he would have liked.
This time it only took thirty minutes and I was able to follow what was happening. When the doctor had completed the angiogram, he showed me the results. One of my main coronary arteries was narrowed down to a "pinhole". I asked him if it was amenable to being fixed with a stent and he said "Its funny you asked me that. I am going to offer you an early Xmas present by fitting a stent. That will save about six weeks and a trip to Sydney. The downside is that there are no cardiac surgeons in Tamworth to fix you up if the stent insertion goes wrong. The failure rate used to be 1% but is much lower than that now." I begged him to do it so ten minutes later I was the owner of a newly opened up coronary artery. I had to stay overnight in the Coronary Care Unit to make sure my obs were OK.
My own specialist doctor visited at seven o'clock in the morning. His first comment was "Your the one whose wife was the fit one."
One of the things they gave me as I was leaving was a CDROM of the images of the angiogram.
Saturday 15th
I was able to leave the hospital at about eight o'clock and met Jean as she was booking out of the motel. We had both had small breakfasts so we headed to the Homestead for some more breakfast and an opportunity collect the email and to post this to the website.
I visited the Telstra Shop and bought a new modem to replace the broken one. I found that it was a different make (Sierra Wireless rather than Maxon). I also bought Jean a prepaid Telstra phone which will work almost everywhere including Barraba to replace the Vodaphone one which only works in big towns like Tamworth and Brisbane.
We got home in time for lunch and had a quiet afternoon. I found that the new modem didn't have Apple driver on the CDROM but I found a URL for the website which might have the necessary software. I will have to go to Tamworth to get the software which means I won't get it until some time next week.
In the evening we had a Lions Xmas party. It was held at the Golf Club an was not as much a party as last year's which was held in Ron and Helen Hiscock's garden. It was a pleasant evening with good food and good conversation. I wasn't allowed to drink alcohol; but I enjoyed myself never-the-less.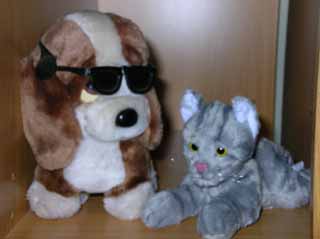 Sunday 16th
We didn't get up until eight and set about having a very restful day. We both had elevated BGL because we drank commercial Lemon, Lime and Bitters which had lots of sugar.
When we were in Tamworth I bought Jean a Kitty to go with her Cat. Kitty finished up sitting next to Pup who looks quite put out.
I got up feeling "blooming marvellous" again. I still have to get the wound in my groin to heal but I'm sure that will come. I still have to obey a lot of *don'ts* for some days yet but I will be able to drive tomorrow so Jean won't have to do chauffeur duties any more.
I spent the afternoon resurrecting the Maxon modem. I got it working. I found that the antenna connector on the PCB had torn one of the antenna connection tracks from the board. I modified it by removing the connector and adding a short length of coax instead. I logged on and eventually found the proper driver for the new modem. I installed it and after a couple of false starts I got it working. I am now equipped to download at 7.2Mb/s assuming Telstra can handle that fro the local cell! It's good to be back in cyberspace.
---
[Previous]
[Next]
[Top of Page]
[Index]
[HOME]
---
Created: 9/12/07 and last revised 16/12/07
Author: Robin Chalmers - Copyright in all the material on this site is asserted by the author.
Contact the webmaster
---