Gloucester, NSW
Saturday 18 Jul 1998
---
[Previous] [Next] [Index] [HOME]
---
Today we took part in the Stroud Annual Brick and Rolling Pin Throwing Festival.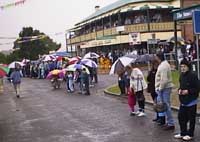 The Motley was required to join the CMCA entry in the big parade. We drove in style behind Dan's campervan, which was decorated with a giant rolling pin, with our lights flashing and Grommit waving to all the kids. Dan won the prize for the Best Commercial?? Entry.
As you can see there was quite a crowd watching the parade despite the bad weather.
The weather was not clement but we rugged up and watched Tai Kwon Do, Line Dancing, Wood Chopping, and Foot Racing as well as Brick and Rolling Pin Throwing.
Of the many commercial exhibits, the one which impressed the most was a beautifully restored 1911 Mogul Stationary Engine.
Having run the house batteries down, we needed to drive the truck for an hour or so and, as we were not looking forward to a cold, wet night around a campfire, we made off to Gloucester to overnight in the caravan park.
---
Contact the webmaster
Created by Robin Chalmers on Mon, 20 Jul, 1998
Last revised Mon, 20 Jul, 199
---