Dicky Beach, Qld
Sat 27 Mar 1999
---
[Previous] [Next]
---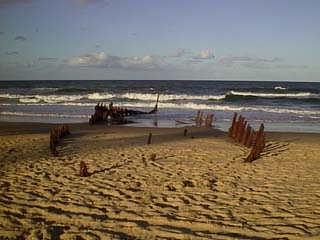 We left Coolum to make our way slowly back to Brisbane.
Maroochydore was a bit of a disappointment. The caravan parks were all very uninspiring. The much publicised shopping centre was different from others only by virtue of the creek which runs through the middle. While this seems like a pleasant idea, this creek is brown and tidal and doesn't really accomplish much in the way of natural beauty.
On to Moolloolaba where we found a little park at the harbour entrance to have lunch. The caravan park here was very cramped and separated from the beach by a line of coastal scrub so on we went to Caloundra.
A hunt for a decent caravan park took us all the way through the town on down to the end of the ill-named Golden Beach. They were all pretty ordinary to bloody awful. We retraced our steps to the first place we'd seen at Dicky Beach as it was better than the others.
The beach is very pleasant and remarkable for being the only beach in Australia named after a ship.
The Dicky, a nineteenth century steam driven iron ship, was beached here in 1893 in a storm to avoid foundering on the rocks of Caloundra Heads. Unfortunately a sand bar developed around the beached ship before she could be refloated and her remains still mark the beach.
---
[Previous] [Next] [Top of Page]
---
[Index] [HOME]
---
Contact the webmaster
Created by Robin Chalmers27.03.1999 and last revised 08.01.2002
---