Sherwood Forest, Beaudesert, Qld
S 27°53'37" E 152°54'47
Fri 1 - Mon 4 Dec 2000
---
[Previous]
[Next]
[Top of Page]
[Bottom of Page]
[Index]
[Home]
---
Highway Wanderers Christmas Chapter Meeting
Friday 1st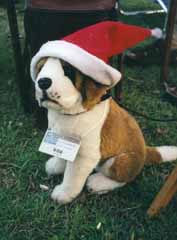 We drove to Allenview stopping at Jimboomba to shop. When we reached Sherwood Forest, we had to wait for an escort to show us the way to the river flat as some of the signs seemed to have become hidden.
Happy hour was really happy. A dozen or so motorhomes were already here and we caught up with some old friends and met some new people.
Over the weekend the Social Secretary, Helene Procter, has much planned for us. As well as the hungi tomorrow night, there are to be Christmas pantomimes, treasure hunts, bowerbird collections and much more. We'll all be exhausted by the time we leave.
Saturday 2nd
Saturday night was Xmas night.
We had a guy in to cook a hungi with beef, mutton, pork, chicken, potatoes, carrots, whole pumpkin and cabbage. All of it was delicious but the cabbage was so good that I ate mine as an entree. Afterwards, we had Xmas pudding with brandy custard and it was all washed down, in our case, with a bottle of McGuigans Petite Verdot.
After dinner we were divided into teams and each team had to put on a Xmas pantomime. The quality varied from non-existent to pretty good considering the quality of the cast and the limited time for preparation and rehearsal.
We sat around the camp fire and had a good time.
Sunday 3rd
Happy morning tea, happy lunchtime, happy afternoon tea, happy hour, happy dinner (leftover hungi), followed by the drawing of the raffle, judging of the treasure hunt and the bowerbird competition ( how many blue things can you collect - the winner had 175 things!).
Monday 4th
More of the same.
---
[Previous]
[Next]
[Top of Page]
[Index]
[Home]
---
Contact the webmaster
Created by Robin Chalmers on 19.11.2000 and last revised 05.12.2000
---