Toowoomba, Qld
S 27°33'43" E 151°53'01"
Thu 16 - Sat 25 Sep 2004
---
[Previous]
[Next]
[Bottom of Page]
[Index]
[Home]
---
[Earlier Visits]
---
19th CMCA National Rally
Thursday 16th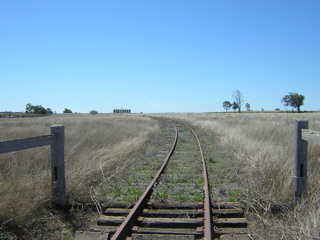 We headed off towards Toowoomba after breakfast. The direct road from Cecil Plains was pretty good for a minor road. We stopped for morning tea at a place called Purrawunda and noticed on the map that just a little way down the road was a railway station called Motley.
Thinking that we must get a photo of a town called Motley we took a short detour. There was a signpost to Mt Tyson and Motley but no sign of a township or even a deserted railway station. Perhaps it is appropriate that the town called Motley no longer exists except in my imagination.
We reached the rally site at about one o'clock and, despite having to pay for extra nights, were sited and settled in on a nice grassy site with some nice neighbours in time for a late lunch.
Happy hour under the Highway Wanderers flag is not far from our site and we enjoyed the company of many old friends and some new ones before being driven indoors by the evening chill.
Friday 17th
We went to town to find the Post Office and to do a bit of shopping.
In the evening we went to a trivia night and our team came second.
Saturday 18th
We went to town to watch the Parade of the Flowers. It was a bit disappointing because there were long gaps and the average standard of the entries wasn't very high. The CMCA won the first prize for marching groups even though nobody "marched" (they all ambled).
At happy hourt our NAC, Ruth Duncan took the opportunity to ask for our group opinion on some issue she will have to vote on at the upcoming NAC meeting.
In the evening we went to another trivia night and came second again.
I took the opportunity to bail up the incoming Director responsible for the National Rest Area and Environment Committee to lobby for his support at the board meeting for our Self-containment Certification Scheme. He complimented us on the high standard of our submission; they are used to getting half-baked schemes badly presented so our work was a pleasant surprise to them.
Sunday 19th
We slept in a bit and the weather was very warm and pleasant when we got out.
We were visited by a new motorhoming couple who recognised the Motley because they regularly visit the website to learn something about motorhoming. We had a really nice chat and we invited them to the Highway Wanderers happy hour. In the afternoon, we were pleased to have them join us and I was impressed when Alan complimented Ruth Duncan on behalf of all the volunteers because they had had such a good experience coming to their first rally. Ruth was grateful for the compliment which did a lot to offset the many unreasonable criticisms she and her crew had had to bear from thoughtless people.
Monday 20th
Jean went to town with some friends to do some shopping. I took the laundry to a local laundromat.
My colleague in the Self-containment project, Ross Kassebaum, had asked me to get in touch with Cec Harrison, who has a wealth of experience in New Zealand with the NZMCA Self-containment Scheme, with a view to having him review what we had done. I took the opportunity to find his site number and looked him up so that I could give him a copy of our submission to the board.
Just at sundown, a big wind got up so it was all hands to get everyone's awning in. Happily the wind died down during the evening.
Tuesday 21st
I had heard that the Wheel-eezy I had bought at the rally in Griffith in 2001 had come from a batch which had been found to have some manufacturing problems and that the company had a stand at the rally and was replacing defective units under warranty. I visited the stand and found that rte guy was planning to leave at midday so I had to race back to the Motley to get the device and race back to the trade show to get the guy to check it out. As it turned out, mine was OK so all my rushing about resulted only in confirmation that I didn't have a problem.
In the evening we went to the Rally Opening Ceremony. The entertainer for the night was Pixie Jenkins, a high energy country music violinist from Tamworth who we had seen and enjoyed at the rally in Canberra, so we were looking forward to a good night out. Sadly the sound system was so poor that the punch lines for most of his jokes were inaudible but the music was pretty good.
Wednesday 22nd
We spent the better part of the of the day shopping in the trade show which part of the rally.
We bought a Cobb cooker to replace the gas stove, skillet and camp oven which we have carried for a number of years and used only a small number of times.
We bought a Solarscreen for the cab of the Motley to replace a little sun shield we have used for a long time. The new one will be much more effective at keeping heat out in the summer and cold out in the winter and, as a bonus, we will have more usable space when we are parked up.
Finally, we bought a TENS (transcutaneous electric nerve stimulator) machine for Jean's back. One of our colleagues had given this device a very good rap and Jean is prepared to try anything that might help. I tested it on my thumb and found it to have the same effect as the machine the physiotherapist used when he treated me for tendonitis.
Thursday 23rd
Highway Wanderers AGM
We had to get up very, very early because they had scheduled the Highway Wanderers General Meeting at 9 o'clock in the morning, the only time the room was free according to the rally organisers. The meeting was not terribly coherent but we managed to get a couple of motions correctly worded and voted into effect.
We went to the restaurant in the grandstand with the Procters and met up with the Rosses and the Hunts, long time friends from the Suncoasters. There were a couple of first timers at the table we chose so I spent some time chatting with them to make them feel welcome.
Friday 24th
The chapter had organised a sausage sizzle at a site the other side of the showground from where we were sited. Jean and I tried to catch a Smily bus but none of the five which passed us would stop to pick us up. I got the car out and broke the rally rules by driving across the rally site.
The sausage sizzle was a bit of a disappointment because they was only room for tight little groups of people so there was no real open social interaction. We chatted with those sitting near us including the first timers from last night's dinner. The highlight of the occasion was a performance by Lance Maguire, the banjo player, who has been playing at CMCA rallies for years and who gets better every year. it was worth all the trouble we had gone to just to hear him play again.
Saturday 25th
The board has agreed to implement the Self-containment Certification scheme and has approved a small budget to pay for postage, phone calls and so on.
I was invited to address a meeting of those Chapter Presidents who were interested in the Scheme. Only three turned up which shows a certain lack of interest, given that there are now over sixty chapters in the club, but Barrie Ward, the incoming Director responsible for the National Rest Area and Environment Committee, said that his invitation was buried in a plethora of other things so maybe some didn't register what it was about. Those that did come were very keen to see the scheme implemented because they see that the Club needs to earn it's environmental credentials and they all have members who will be prepared to participate as Inspectors and plenty of others who will want to take advantage of the privileges the scheme will bring.
I agreed to have the scheme reviewed by all Chapter Presidents so we have a way to go before we see something tangible happening. I also have to wait on formal authorisation from the Board. I assume that this will be forthcoming in due course.
With five chapters already on board, I have no doubt that we will get the scheme up and running in the next few months. There is a bit of work ahead for Ross and me but it will be worth doing so we should both get some satisfaction from it.
After the meeting, I chanced to meet Glennis and John who had come to the Christmas in July meeting at Samford and who had come to Townsville to check out both new and second-hand motorhomes. The had a good long stint at looking around and then they came to us for lunch and a long chat. It was really good to see them again.
After a small happy hour at the Procter's place, six of us went into town looking for a Thai restaurant. We came upon one but no-one wanted to go a place with no other customers so we continued to search. We finally chose a Pakistani Restaurant attached to a club in the CBD. The food was exceptionally good and we all had mango lhasi as they had forgotten to stock up with coffee. We all enjoyed the meal and the small size of the bill was a pleasant surprise as well.
---
[Previous]
[Next]
[Top of Page]
[Index]
[Home]
---
Created: 16.09.2004 and last revised 29.09.2004
Contact the webmaster
---