Forbes, NSW
S 33°23'22" E 148°00'17"
Thu 23 Feb 2006
---
[Previous]
[Next]
[Bottom of Page]
[Index]
[HOME]
---
[Earlier Visits]
---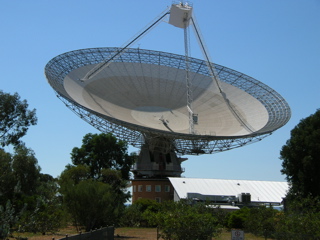 We had a relatively peaceful night. The trucks seemed to stop leaving before we went to bed and didn't start up again until after we had woken up.
We stopped at the Parkes Radio Telescope to shop for some books I had seen on our last visit but didn't buy then. Like most of these "don't buy" decisions, I regretted this one so I wanted to visit again to rectify the mistake. I bought the books and we had very nice coffee and fresh baked scones at the Dish Cafe.
We drove on to Forbes, did the shopping, set up in the Lions Park, and had lunch.
In the afternoon, we veged out in the heat of the day. I chatted with some caravanners who were in the park. Because the mobile phone service had come good, I downloaded the emails, and made a couple of phone calls.
---
[Previous]
[Next]
[Top of Page]
[Index]
[HOME]
---
Created: 23/2/06 and last revised 23/2/06
Author: Robin Chalmers Copyright in all the material on this site is asserted by the author
Contact the webmaster
---