Currawinya, Barraba, NSW
S 30°22'50" E 150°36'38"
Sun 13 - Sat 19 Aug 2006
---
[Previous]
[Next]
[Bottom of Page]
[Index]
[HOME]
---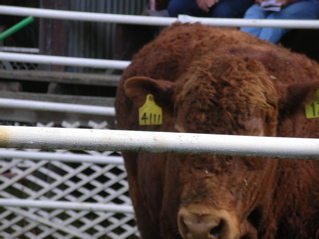 Sunday 13th
It was a beautiful bright, clear day so we decided to have a little adventure. We chose Horton Falls west of Barraba in the Nandewar Range as the destination. The land out there is pretty dry but it got greener as we went up into the hills. We came across a little Water Dragon and a Wedge-tailed Eagle on the way. We found a sign leading to the Upper Falls Top Pool so we set off on a short walk on a bush track. It turned into a steep descent so we chickened out, not wanting to have major problems climbing back up. Back at the car we met a couple from Moree who were doing what we were doing. We went on to the picnic ground at the top of the track down to the bottom of the falls and stopped for lunch. As we were finishing our meal, the couple from Moree turned up so we offered them a glass of wine and had a chat. The were farmers from Moree who are doing it tough in the drought but are happy that this year winter crops are growing quite well.
Monday 14th
I spent a considerable time developing a Filemaker database to record Jean's food intake with Weightwatchers points built in. I did quite a bit of data gathering from the food in the house but the algorithm for determining "points" is not obvious with such a small dataset. There are some e-tools on the Weightwatchers website but they are only accessible with an access code so I asked Jean to ask her meeting leader for a code so that I can access the database of foods showing their points.
In the afternoon, we did a half hour walk.
Tuesday 15th
I spoke to the plumber because we had planned for him to come on Friday but I realised that I had committed to doing a Lion's barbecue at a local bull sale. The plumber said that he wouldn't be able to come on Friday anyway so that was OK. He plans to come sometime next week.
In the morning, we did a 45 minute walk.
Wednesday 16th
I took the Motley to the hardware store to pick up a new bottle of gas. When I got back to the house, I dumped the black water into my dump point and test ran the generator which has been idle for quite some time.
I offered to walk but Jean said her legs wouldn't take it.
I decided to calibrate our bathroom scales because both the doctor and the Weightwatchers had got numbers a bit higher than we got at home. I weighed myself and went to the Chemist in town and weighed myself in the same clothes on their weighing machine. The error was 6 kg in 90 kg so I decided to pension our scales off. They do give reliable relative measurements but it doesn't help if the numbers don't correlate with other machines.
I printed a report from Jean's Weightwatchers journal for to take to the meeting this evening. We'll see if her meeting leader approves.
Thursday 17th
I can't say I found enthusiasm but did find the energy to do more work on the bathroom. I am now ready for the plumber to do his thing. I had a bit of a problem. I had to drill a hole through the outside wall for the drain from the vanity. When I had got through the inside lining I came across a 4 by 2 nogging which took a bit if work to get through. As I was trying to mark the outer wall lining, the hole saw fell off the drill and fell into the wall cavity. I'm inclined to leave it there because getting it out would be a really unpleasant job and I do have another hole saw.
In a hundred years time when some archaeologist is investigating this house they might come across this strange example of twentieth century technology.
I took the afternoon off as my body was complaining about the treatment it was being asked to undergo with so much ladder climbing.
Friday 18th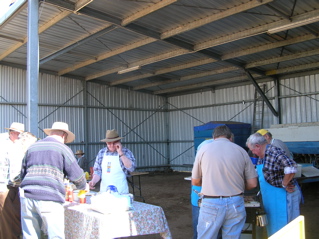 I had volunteered to help do the lunch and afternoon tea at the bull sale at "Kildare". When it came tom it, I drove there and took two on my colleagues. Kildare is a beef stud farm in the Horton Valley about 50 km from Barraba. The drive there is very pretty even though about half the journey is on dirt roads. My two passengers were both born and bred in Barraba. They commented that when they first joined the Lions 30 years ago, they were the "youngsters" and looked up to the old fellows. Now they are the "old fellows".
The bull sale was a very interesting experience for me. The event is primarily a commercial occasion but I found that the main activity is social. It was obvious that most of the people there knew on another but the contact between them was mostly at gatherings like this one.
We had a very good day cooking a barbecue lunch for perhaps fifty people and providing afternoon tea for them as well. The meat for the barbecue was provided by the owners of the property and the lunch was free but we sold raffles tickets, soft drinks, and afternoon teas. There were lots of cakes left over after every one had had their afternoon tea so the auctioneer sold off the remaining cakes and added an extra hundred dollars to the three hundred and eighty dollars we has raised. The charity destined to get the money will benefit from this quite extraordinary display of generosity on the part of a crowd of farmers all of who are suffering from the drought.
Saturday 19th
We went to Tamworth to buy some supplies and take advantage of a very good deal on Banrock Station wine.
I was absolutely whacked when we got home. Whether this was from the effort of yesterday or due to some sinus trouble I don't really know, but Jean had to cook dinner. Her effort made a nice change from my usual meals.
---
[Previous]
[Next]
[Top of Page]
[Index]
[HOME]
---
Created: 12/8/06 and last revised 20/8/06
Author: Robin Chalmers Copyright in all the material on this site is asserted by the author
Contact the webmaster
---