About twenty members turned up at the Barcaldine Rally. There was so much going on at the rally that we only managed to meet at the rally morning teas. It was great to have the company of other red hatters and we all enjoyed much friendly chat.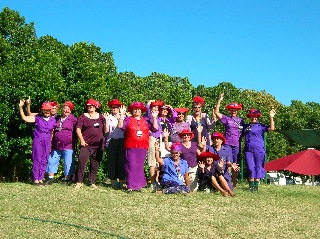 On Thursday, the club participated in the Biggest Morning Tea, a nation wide event to raise funds for Cancer Research. Most of the ladies attended dressed in their regalia and created quite an impression of the other people at the morning tea.
We signed up eleven new members at this rally.
On Friday, Queen Gemma announced that she couldn't continue to be the Chapter Queen as she was retiring from rally going, at least for the time being. One of our visitors from Townsville, Chris Bailiff, offered to take over the role of Chapter Queen, an offer that was gratefully accepted.
The next meeting of the Chapter will be at the Forbes Rally 15 - 24 October 2007. Please try and come.
Queen Gemma urges you all to try and catch up with other chapters of the Red Hat Society as you travel around. Those members who have done this have all reported that they were being warmly welcomed and.had a great time. Don't forget to take all your regalia when you are on the road. You never know when you will meet other Red Hatters having fun.