Jun 2008
---
The New Era gets into its Stride
The Motley has been repaired and has been registered by Russell in Queensland. It is no longer a Mexican (Victorian) vehicle.

I decided that it was time to accept that the Terios should also be re-registered. Today I took it to Manilla for a road-worthiness inspection. I also took out a NSW CTP insurance. When I got back to Barraba, I took advantage of the newly installed RTA system in our Council Offices. I was able to effect the new registration quite quickly. The Terios can't be called the "Little Motley" any more as it is no longer the tender to the "Motley" so it has been re-named "Thomas" as in Terry Thomas, the Terios. It is no longer a Mexican vehicle and I am no longer at risk of being pinged for living in NSW and driving a Victorian registered car. Sadly the existence of "sovereign states" meant that I had to pay stamp duty on the "market value" of the vehicle as though it had been the subject of some financial transaction. I guess I shouldn't be surprised to be the victim of unjust taxation. If only we could have a "Boston Tea Party" of our own.

Posted: 30/6/08 5:32 PM
---
A Quick trip to Queensland
We had a short but wonderful trip to Queensland.

We delivered the Motley to Russell Bevan, its new owner. Unfortunately the mechanical inspection showed up a couple of defects which are being rectified by D & K Weiss Engineering. Happily, Russell is working on a short contract and doesn't need to take possession immediately so all will be well when the repairs are complete and the road-worthiness certificate is issued.

Jean had a very pleasant meeting with a group of Red Hatters in Toowoomba at the invitation of Russell's wife, Catherine.

We spent some quality time with the Marretts catching up on their doings and them on our doings.

We also caught up with some old friends who live in Newmarket who we hadn't seen for some time. Like us they plan to restrict their travelling in future because of increasing physical discomfort and increasing budget stress with the high price of fuel.

We had a very pleasant afternoon with our two children, our grandson and a long time adopted member of our family and his lovely wife and one year old daughter.

A couple of things that went wrong while we were away. The battery in the Terios carked it when I tried to use it to charge the mobile phones. I had run it down by leaving the headlights on recently and had to get a jump start from a neighbour. The battery was six years old so I got a new one from Marshall in Brisbane and I won't have to worry any more. The other problem was the MacBook which spat the dummy on me with bad case of corrupted preferences and I have only just got it back in order.

The trip back to Barraba in the Terios was surprisingly easy compared with the journey north in the Motley. We were home in time for afternoon tea and had unloaded the Terios before dark.

Posted: 24/6/08 11:41 PM
---
The End of an Era
We have sold the Motley. We are pleased that it has gone to a good home and we hope it will provide the new owners with as much happiness as it gave us over the ten years we were grey nomads. We wish the new owners "safe travelling and many happy hours".

We have decided to retire from motorhoming because we are getting to the stage when the travelling was an uncomfortable burden for our bodies and the cost of fuel was an uncomfortable burden on the budget.

Another reason was the increasing success of the caravan park owner lobby with lots of our favourite stopping places now closed to us. Wyllie Park in Petrie north of Brisbane which we have used many times over the years is now closed and I have been told that the reason for the closure was the uncivil behaviour of some of those who used the park overnight. I have said before that I don't believe that it is just to punish the innocent because of the sins of the guilty.

There is a touch of sadness that we have come to this point but it was always part of the plan to keep on travelling as long as we were enjoying it. We are well settled in Barraba and there is lots of good things happening here which will give the new phase of our lives plenty to be happy about.

Posted: 20/6/08 6:59 AM
---
I keep telling you that good things happen even on Friday 13th!
Yesterday I had to take the Motley and trailer to the tip to dispose of the rubbish from the kitchen renovation while I still have the trailer.

While I was throwing stuff onto the wood heap, I caught the pocket of my shirt. When I got home I noticed that the pocket was torn out from the bottom. Later I tried to find my phone and couldn't find it anywhere, We used Jean's phone to ring it and It kept responding but it was not within earshot. Jean suggested I might have lost it at the tip. I realised that I had put it in the pocket of my shirt and it must have fallen out when I tore the pocket.

This morning, I went back to the tip. The guy who looks after the tip was very helpful. He came with me to the site of the incident. I rang my phone but the service said it was switched off. We moved the stuff which had been put over the stuff I had dumped. As we moved the last piece, there was my phone. It wasn't working but when I got home I put it on the charger and it started a long charge. I swapped batteries with Jean's phone and all was well.

Good things do happen - a lot.

Posted: 13/6/08 11:29 AM
---
The Beauty of Nature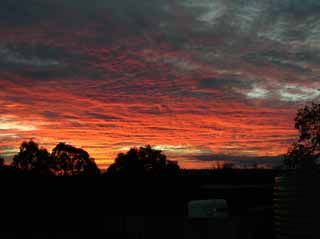 The weather has been strange recently. We are in winter but the nights have been not very cold and the days have been fine and sunny. Today we had some clouds and the sunset was spectacular.


Posted: 11/6/08 9:56 PM
---
Is Kevin Rudd responsible for high fuel prices?
There seems to me to be a campaign to vilify Kevin Rudd by blaming him for the increase in the price of fuel.

I really don't understand the rationale behind the proposition. We live in a world largely dominated by the "market" due, I believe, to a thoroughly misguided policy of Margaret Thatcher to adopt the economics theories of Milton Friedman, "The market is the only efficient method for allocating resources". I have ranted about this in an earlier essay . To suggest that the government should apply the "market" principle to other areas of the economy but not to this particular issue on the grounds that the consumers deserve to be protected from the "market" in this one commodity is, in my view, unsupportable. I am a believer in regulation but the basis must be rational and the results should be consistent and just.

It is clear to me that the present price of fuel is a direct result of the "market". Each player in the industry from the producers of the crude oil through the refiners to the wholesalers and the retailers are setting their prices according to how much they can get their customers to pay. In a situation where the price of crude oil has increased from about $20 a barrel forty years ago to the present about $120 a barrel today with most of this increase having occurred in the last few years, it is hardly surprising that the cost of diesel at the pump has increased from about 75c/l in 1988 to $1.60/l today.

Clearly the excise on fuel in Australia which was introduced to provide funding for road maintenance makes a significant contribution to the retail price and the levying of GST also increases the government take from road users. However, this tax is rational in that it is proportional to the consumer's use of the road infrastructure that the government must maintain.

Some (including those in parliament who were responsible for the present levels of this tax when they were in power for eleven years) would have the present government reduce these taxes to ease the burden on the consumer. If this policy were followed, it is obvious that either the maintenance of the infrastructure would be curtailed with very damaging results, or the cost of the maintenance would be passed to the tax payers as a whole and those who don't use the infrastructure in a significant way would have to subsidise those who do.

As the title of this item reveals, I believe that this campaign is simply an attempt to discredit the new Prime Minister before we have been in a position to assess the results of his policies. This is just another example of the almost total lack of rational debate in our body politic.

Posted: 4/6/08 9:46 AM
---
Another piece of wisdom from my Favourite Australian, Peter Cundall
I know that he Peter Cundall started out as a pom but he is definitely an Australian now. I was pretty much a pom when I came back to Australia after 16 years as a Londoner.

In a recent piece, Peter Cundall said that he had arrange to donate his body to medical research to avoid all the funerary palaver. He just wants his family and friends to have a wake instead of a funeral. I think I like that idea.

I have adopted a typical piece of Peter Cundall as my normal reply to "How are you". I say, "I'm blooming marvelous". It is amazing how many people open their eyes wide and react as though they suddenly feel better themselves.

I am constantly trying to remind people that there are overwhelmingly more good things happening in the town, the country and the world than bad things. We all remember the bad things that happen and the media are constantly reporting them but the good news doesn't get enough attention.

Posted: 2/6/08 6:27 PM