November 2012
---
A car trip to investigate a big thunderstorm in our area
Monday , 26th November 2012
I had to go out a couple of times today to visit people in Barraba to talk about what I had to put in the Agenda of our next CDC meeting.

When I was out I heard thunder and checked the rain sensing radar on the Mac Book using the modem. I saw a big thunderstorm to the west of our town so I decided to drive west along the Trevallyn Road to a bridge across the Manilla River about 20.5 km from town.

I went out there to sense the thunderstorm.

On the beginning of my journey I saw lightning flashes in singles and in pairs on both sides of the Trevallyn Road.

I took a side trip about 7km out and 7 km back on a road called Burindi just to get under the thunderstorm clouds. It was raining pretty heavily there and I was impressed.

When I got out towards the Manilla river the rain was very very heavy. When I reached the river it was not running well probably because the rain was not all running into the river from the hills. The river there is just down from its source up the hills to the south west of Barraba.

When I got back to town there was no rain falling.

I checked the radar again and found that the thunderstorm, which we could still hear, had moved to the north east of Barraba between here and Bundara.

I don't think that any of the storm rained on Barraba during this movement because my rain gauge still says 0 mm.
---
Small Gathering at the Playhouse Hotel
Saturday , 17 November 2012
This morning we went to the Playhiuse Hotel Cafe to enjoy their coffee.
After we got there two others joined us, they were Sarah and her friend Jane.
We all enjoyed the coffee and we all had lots of convesation about what we were doing in Barraba.
Jane talked about internet stuff which helps our organisations. She is impressed with our websites but also is impressed with Facebook pages and Twitter accounts all of which make lots of effort to inform people about what we do and what we achieve.
I am unhappy about Facebook even though I have to use it to inform people of the out of town visitors to the Barraba Atrisans'and Farmers' Market.
I have a database of all the numbers of out of town visitors I have recorded.
At the 26 markets I have worked at we have had 382 out of town visitors.
6 markets had less than 10, the other 20 had 10 or more, the bigest numbers were 21, 22, 24, 24, 26, 27, & 30,
These numbers are impressive because one of the primary purposes of our market is to promote Barraba to other people.
I am very happy to communicate with the out of town visitors in my position, Meet & Greet Officer.
I usually ask them where they are from and I am usually able to tell them "I have been there" because we visited 546 towns in Australia when we were grey nomads, and I lived in 12 towns in Australia from my birth to today and 9 in England, and 1 in Papua New Guinea..
I am also impressed that I have met 27 people from other states and 6 from other countries, 1 from Canada, 1 from Spain, 2 from England, 1 from Scotland, and 1 from USA.
---
Year 12 Formal
Monday , 12th November 2012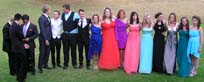 Last Saturday evening we went to Barraba Golf Club to attend the Barraba Central School Year 12 Formal.
We were impressed with the presentations by Gary Turmer, Head Master, Brian Norman, Deputy Head Master, Mr Longstaff one of the year 12 teachers.
The all made very clear appreciations of the year 12 students who have just done their Higher School Certificate exams.
The students all made responses to these appreciations and we congratulated the teachers and the students about what they had presented.
We all had a wonderful dinner and Jean and I drank some wonderful Jacobs Creek Shiraz.
We were all so pleased at the presentations and the dinner.
---